Storms cause a significant amount of damage to households each year. According to the Federal Alliance for Safe Homes®, intense storms, particularly hail, cause more than $1.6 billion worth of damage to residential roofs annually. As it protects the majority of your exterior from the elements, your roof can be vulnerable to holes, dents, and cracks. That's why after a storm passes, it's always best to check your system for damage.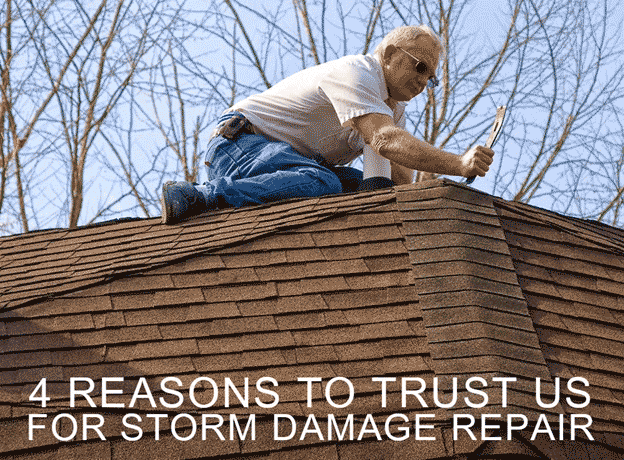 However, doing this on your own might only cause more trouble, especially if you have no professional training on roof inspection and repair. To make sure your system receives the right treatment, you can turn to the most trusted company for roofing services in Minneapolis, MN: Perfect Exteriors of Minnesota. Here are four reasons to entrust your needs to us:
We have vast experience with storm damage repair
Fully licensed and insured, our company has been helping homeowners create better homes for over 35 years. We have professional experience tackling the aftermath of severe conditions on different types of roofs.
We have factory-certified installers
Unlike other contractors, our installers and team members receive continuous training to further improve their skills. As a GAF® Master Elite™ roofer, we know the ins and outs of asphalt shingles in Minneapolis, MN. If they get damaged, we can work on them to ensure they remain beautiful and functional. We can also install new ones if the damage is too extensive for repairs.
We prioritize your comfort and safety
We understand the need for urgency once bad weather hits the area. Fortunately, our workers are trained to act quickly for any of your emergency needs. After repairing any issues, we'll make sure to clean the work area so you won't have to worry about your family's comfort and safety.
We offer unbeatable warranties

As the leading roofing contractor in the region, we provide strong warranties on both our products and workmanship. These cover everything from our asphalt shingles to metal roofing in Minneapolis, MN.
When a huge storm strikes your area, our professional inspectors will be ready to assess any kind of damage on your roof. We will repair and replace as necessary, so you can have peace of mind no matter what nature throws at your structure. For more information on our services, you can call us at (763) 271-8700 or complete our form. We'll be ready to assist you.