Professional Commercial Roofing Contractor Rogers MN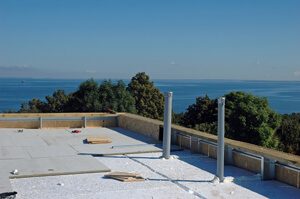 Whether you're looking to give your home a new look, or if you want to prepare for stormy weather, getting a roof replacement has countless benefits that could change the way you live your life in your humble abode.
A sturdy roof makes us confident – any homeowner knows that. It's nice to know that our roof is strong enough to withstand the toughest of weather conditions because then we won't have to worry about our family or possessions being put at risk. If you think your roof has been through too much stress in recent years, or if you want to give your house a well-deserved make over, consider getting your roof replaced!
The Benefits of Roof Replacement
Sooner or later, your roof will give in to the stress and damage caused by the harsh weather conditions and changing climate. It's only normal! While you might feel yours is still strong enough to stand against the potential damages, it might be a good idea to have it checked anyway. You don't want to have to wait until the day it start to crack and break before you call in the professionals. What's more, getting your roof replaced means you get the chance to give your home a well-deserved makeover! Now, who doesn't want that?
Perfect Exteriors Roof Replacement Service
We at Perfect Exteriors know how hard it can be to find the best service to trust your roof replacement project with, so we make the decision easy with our high-quality service and affordable rates!
With Perfect Exteriors' high level of expertise and professionally trained personnel, you won't have to worry about a long, messy roof repair. We'll get there and get the job done with time to spare. Our speedy and safe process is guaranteed to give you the perfect, problem free roof replacement experience ever! We offer siding, window, and gutter, and insulation maintenance, as well as storm damage repair and much more. You can have your whole exterior repaired in one go! Get a price quotations and inspections for FREE upon your request!
Call The Professional Commercial Roofing Contractor Rogers MN
If you're interested in finding out more about our roof replacement services, or the other services we offer, then feel free to browse our website for more information. Call us today for a free quote and find out why we're the best commercial roofing contractor Rogers MN has to offer!