Choosing which exterior siding to use on your home is a critical decision. With so many house siding options, it can be tough to determine which is best for your property.
Here, we explore the most common types of house siding, their expense level, and the pros and cons surrounding their cost, maintenance and durability levels, eco-friendliness, and more.
Brick
Brick is one of the most popular types of siding materials. Brick requires relatively low maintenance, offers durability and traditional curb appeal, and can be environmentally friendly. On the other hand, it is a costly siding option.
Pros
Brick is low maintenance. If you are happy with the brick's natural color and tone, it does not require painting. Paint upkeep is a consistent project with other types of house siding.
The only time you might need to wash the brick is if it experiences some moss or other junk accumulation. Hand washing with a mild detergent, hose, and soft brush will do the trick.
People like the traditional, homey feeling that brick siding evokes. Brick siding's fire and weather resistance make it one of the most durable siding materials.
The clay that forms bricks is a natural, renewable source that reduces a home's carbon footprint. Brick also provides strong insulation to lower energy consumption year-round.
You can minimize the environmental impact even more by sourcing bricks from a local manufacturer.
Cons
People don't consider brick to be an affordable type of siding. The materials can range from $5-15 per square foot, and the labor expense of masonry work adds another $2-8 a square foot.
Wood
Wood siding is a timeless exterior choice. Wood provides endless customization, easy installation and repair, and it's a sustainable siding material. Wood siding is also high maintenance, vulnerable to damage by pests and moisture, and can vary in cost.
Pros
With wood, you can highly customize your home's curb appeal. You can select from a long list of wood types and stain or paint wood in virtually any color.
Wood siding also comes in a wide range of styles. You can install wood siding horizontally, vertically, board and batten, or opt for a more unique option like logs, shingles, or shakes.
Wood siding is typically lightweight, which lowers labor costs and opens the opportunity for more homeowners to install it themselves. When the siding requires repair, you can fix most minor flaws with wood putty and tightening screws.
Wood is a renewable, natural source that is recyclable and biodegradable. You can reduce its carbon footprint by sourcing the wood locally from manufacturers with certifiably responsible harvesting practices or using salvaged wood.
Cons
Wood siding is high maintenance. Wood stain and paint need touching up every few years.
It also requires consistent inspection. You need to promptly address mildew buildups and any openings in the wood that leave room for critters. Wood siding for houses should receive annual exterior cleanings and pest inspections.
Lumber is a natural material drawing attention from pests like insects, rodents, and birds. Critters can destroy wood siding and jeopardize structural integrity.
Moisture also poses a threat to wood. This exterior siding type requires heavy sealant to protect the wood from warping, weakening and severely molding. The sealing process is costly and ongoing. Additionally, wood siding is not resistant to fire.
Wood siding for houses costs more over time because of the ongoing maintenance expenses, but the initial installation cost varies. Influences like wood type and style impact the overall pricing.
Vinyl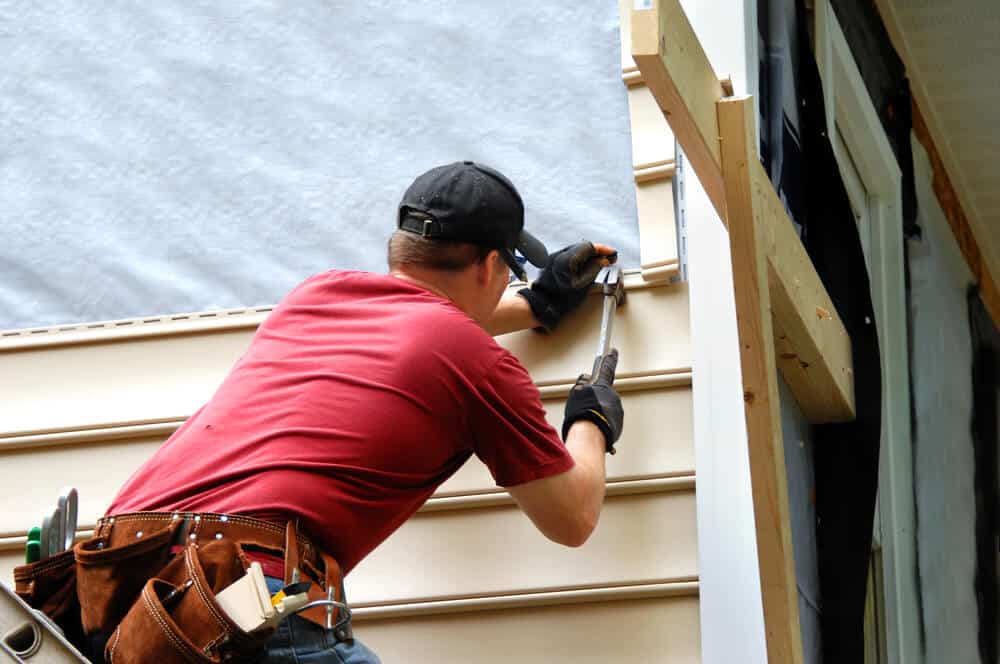 Vinyl siding for houses is low maintenance, customizable, inexpensive, and can be innovative. Vinyl is also hard on the environment and can lower your home's property value.
Pros
Vinyl siding does not require paint, and the coloring cannot chip, strip, or scratch off. Vinyl is also easy to clean. Dirt, dust, cobwebs, and debris easily slide off the vinyl's smooth surface with a hose.
You can choose from a wide variety of color types and styles for vinyl house siding options. Vinyl siding can mimic stone, brick, and wood as an engineered veneer. Vinyl is also usually the least expensive siding type, costing an average of just $3-6 a square foot.
Many vinyl siding manufacturers offer products with innovative features, like fade-resistant and insect-repelling vinyl. Vinyl carried a bad reputation for being low-quality for a long time, so manufacturers are making a point to improve it.
Cons
Vinyl contains PVC, which can be a toxic pollutant. Most landfills that receive vinyl siding burn it, releasing those toxins into our climate. Also, resale value can be lower for houses with vinyl siding due to the longstanding public perception that vinyl is a subpar material.
Metal
Metal siding is sustainable, durable, modern, and low maintenance, but it is also expensive.
Pros
Metal improves your home's energy efficiency and it's easy to source materials that are recyclable or repurposed. Metal siding for houses is perfect in harsh climates since it holds up against severe weather conditions.
Metal siding is newer to residential properties, providing contemporary curb appeal. It comes in a variety of color and style house siding options, too. Metal siding does not carry the risks of retaining moisture, and it is innately insect-repellant.
Cons
Metal is an expensive siding option, costing up to $30 per square foot on average. Installing metal siding is a long-term investment that pays off over its lifetime by reducing energy and maintenance-related expenses.
Stone
Natural stone is durable, customizable, sustainable, and insulates well. It's also expensive and requires a structural substrate.
Pros
Stone siding is fire and weather resistant. You can choose from a wide range of styles and colors. It provides strong insulation, lowering energy consumption, and you can locally source or repurpose stone.
Cons
Stone comes with a high price, costing $30-48 a square foot. It requires complex installation, including a structural substrate to support the materials.
Explore Perfect Exteriors' Siding Options Today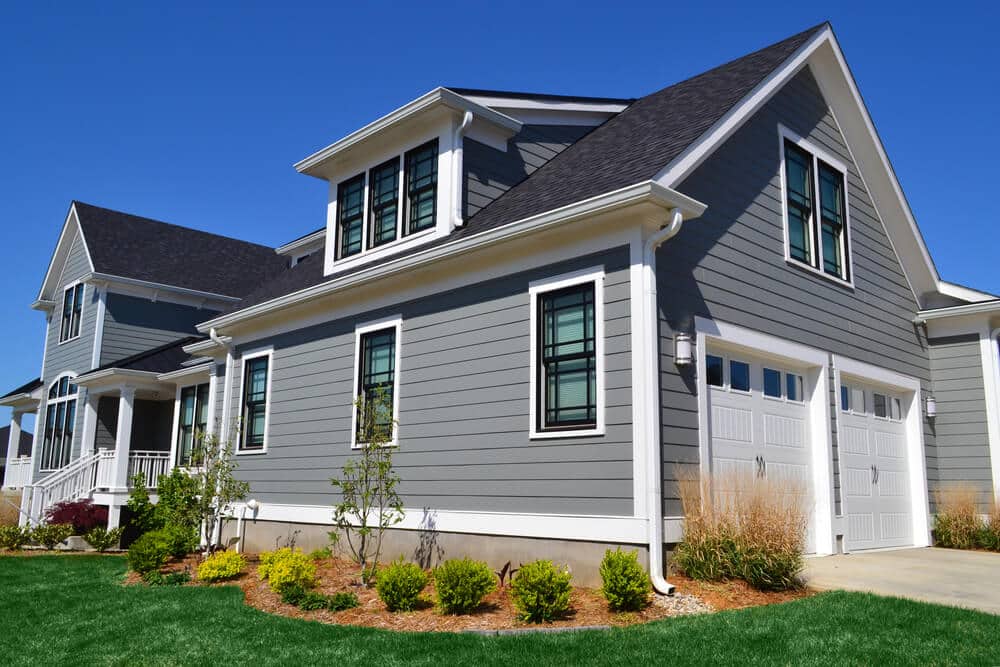 Factors like upfront and long-term costs or savings, appearance, maintenance, durability, and sustainability are important to consider when choosing the best type of house siding. Take a look at your budget, personal ideals, and style to choose the right type of house siding for your home. Contact Perfect Exteriors today to talk to one of our experts about our range of siding types.