Are you planning on replacing the roof on your home? While you can stick with a traditional shingle roof, you might want to consider something different. Today, homeowners can choose from different types of roof shingles that improve a home's appearance.
With so many roofing materials on the market, it might be hard to choose the best roof for your home. We're here to help. Today, we'll cover the different types of roof shingles for homes. Let's get started.
Types of Asphalt Shingles
Asphalt shingle roofing is the most common roofing type. They offer good value and come in different styles and colors. You'll come across three types of asphalt shingles when shopping for a new roof.
Three-Tab Asphalt Shingles
Three-tab shingles are the most affordable type of asphalt shingle. These types of roof shingles give roofs a flat appearance. They are lightweight but offer excellent protection.. While inexpensive, three-tab asphalt shingle roofs have a short lifespan and need replacement every eighteen to twenty years.
Dimensional Asphalt Shingles
Dimensional asphalt shingles offer improved appearance and durability over their three-tab counterparts. They are more expensive but can last thirty years..
Dimensional asphalt shingles also offer many more styles making them more popular than other asphalt shingles.
Luxury Asphalt Shingles
If you're looking for the best types of asphalt shingles, you can install luxury asphalt shingles. These types of roof shingles offer the best protection and visual aesthetic of any asphalt shingle. Luxury asphalt shingles simulate slate, wood shake, and other expensive roofing options.

While expensive, luxury asphalt shingles can last twenty-five to thirty years before replacement.
Metal Shingles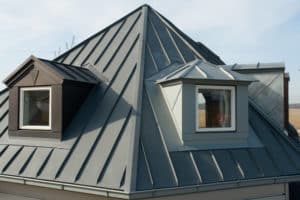 Metal roofing has increased in popularity. Aluminum, copper, and steel offer a unique aesthetic and protection.
A metal roof can last up to one hundred years. While the initial price is more than other roof shingle types, you won't have to replace the roof.
Metal shingles offer corrosion resistance and low maintenance, but are susceptible to denting.
You can also find metal shingles that simulate more expensive roof shingle material. If you like the appearance of stone shingles but can't afford them, don't hesitate to check out stone-coated steel roofing materials.
Slate Tile Shingles
Slate roofs offer a premium appearance at a premium price. This roof shingle material also looks amazing and gives your home a rustic aesthetic.
Unfortunately, slate is expensive compared to other roof shingle types. These types of roof shingles also add extra weight. You'll need to ensure the structure of your home can withstand the added weight of this type of roof shingle.
Slate tile roofs also last longer than other roof shingle types. You can expect a new slate roof to last at least fifty years.
Clay and Concrete Shingles
Homeowners in warm and dry climates often use clay or concrete shingles. These types of roof shingles offer heat resistance, durability, and a unique appearance. Clay and concrete tiles come in an extensive array of colors, making it easy to match the color of your home.
Both clay and concrete have high durability and long life. Most homeowners report their clay and concrete roof shingle material lasting up to sixty years.
This durability and longevity come at a price. Clay roofs are much more expensive than other roofing materials. Concrete is one of the cheapest types of roof shingles available.
Roof Shingles Types: Wood
Wood shingles are your best bet if you want the look of a rustic cabin for your home. These types of roof shingles come from different hardwood species, including cedar, spruce, and redwood. You'll also find shingles in different shapes and sizes to further tailor the roof's appearance.
Wood shingles are one of the easiest roofing shingle materials to maintain, but they tend to deteriorate faster than other roofs. Most wood roof shingle materials need replacement within twenty-five years.
Wood shingles are combustible and may require fire code inspections before installation. They are also a bad idea in any area that experiences wildfires. You should avoid these types of roof shingles if you need to worry about fires near your home.
Wood Shake Shingles
Shake shingles are a common type of wood shingle. They have a distinct appearance as each shingle is sawed off or hand split. Once installed, your home will have an authentic rustic appearance while using modern materials and roofing techniques.
The construction process of wood shake results in a higher price per shingle than traditional wood shingles. They also take longer to install than traditional wood shingles. You can expect a wood-shake roof to last between thirty and forty years.
Rubber Roof Shingles
Rubber roofs are one of the most eco-friendly types of roof shingles available. Most rubber roofing materials are ninety-five percent recycled materials. If you live in wet climates, rubber roofing is a good option. It offers the best waterproofing and is resistant to mold, mildew, and storm damage. Rubber roofing tends to last between twenty and twenty-five years, and costs are comparable to asphalt shingles.
Solar Shingles
Are you looking for ways to improve your energy efficiency or go off-grid? Solar panels are the best type of roof shingle for energy-conscious homeowners.
While they might not be the best-looking option on our list, many homeowners love the reduced energy costs associated with solar panel roofs. Depending on where you live, you might get a tax break for the installation of this type of roof shingle.
Unfortunately, installing solar panels is expensive and requires professional installers to perform the installation. They are also expensive to repair and maintain. Also, some homes can't take advantage of solar due to their location or positioning on a property.
Which Types of Roof Shingles Are Right for Your Home?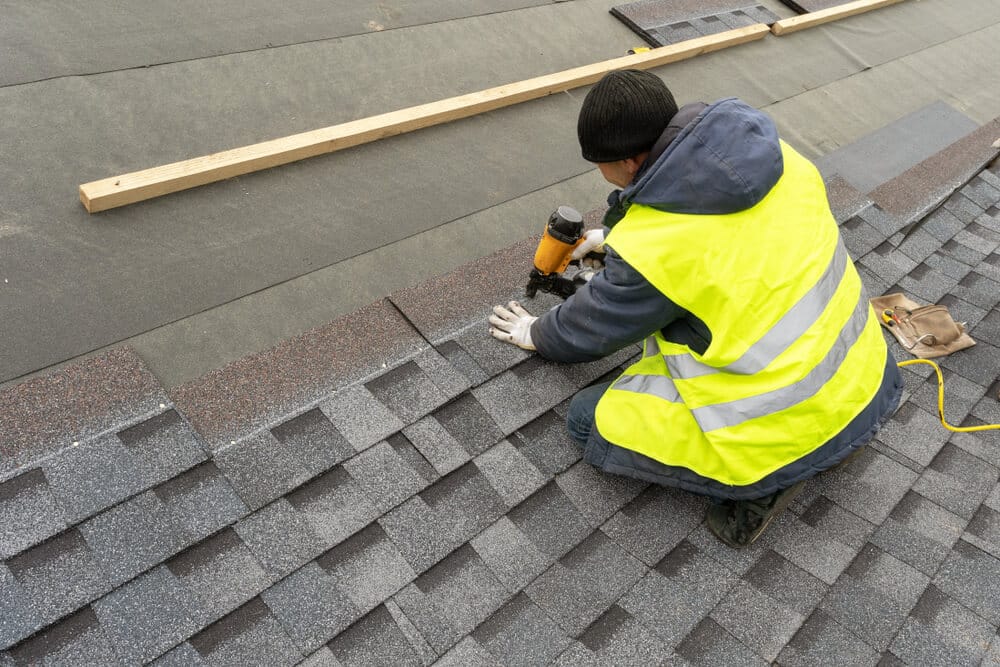 Every homeowner has different priorities when choosing a new roof. Luckily, most modern types of roof shingles combine durability, longevity, and attractive appearance. You don't have to choose between appearance or durability when choosing a type of roof shingle.
From asphalt to solar, we've covered ten types of roof shingles for your home. Which types of roof shingles are you planning to install for your new roof? The team at Perfect Exteriors is available today to help you choose the right shingles. Contact us today to get started.