When replacing your roof, underlayment is one of the most important things to consider. The underlayment is a layer underneath your roofing material that is usually not visible unless there's a problem. A good underlayment will protect your roof from leaks and provide additional support for shingles and other roofing underlay materials.
Read on to learn about the distinctions between the many different roof underlayment types, which will allow you to choose the one most suited for your house.
What Is Roof Underlayment?
Underlayment rarely receives the attention it's due, even though it's one of the essential parts of your roof. Most residential roofs are made of asphalt shingles, underlayment, and a roof deck or sheathing.
Roof underlayment is a felt or synthetic fiber layer between the exterior shingles and the interior roof deck.
The roof's state will determine how often the roof's underlayment has to be updated, similar to how you replace your shingles at semi-regular intervals. In the past, there was only one form of underlayment available, and that was asphalt-saturated felt. However, as time has progressed, various varieties of underlayment have been produced.
What Function Does Roof Underlayment Serve For A Home?
All types of roofing underlay materials serve the dual purpose of adding extra insulation to the top of the house and serving as a barrier against water intrusion into the attic, making it an essential component for any home. Some roof underlayment types are better than others in terms of cost, moisture protection, or extreme temperature performance.
Choosing a quality underlayment that will protect your roof and provide the necessary support for shingles or other roofing underlay materials while staying within your budget is essential.
Types of Underlayment
Felt, synthetic, and rubberized are the three kinds of roofing underlay materials. Each has their own set of advantages and disadvantages. Some situations may call for one type over another. Let's look at the advantages and disadvantages of each type, as well as when they are best suited.
Felt Underlayment
The most common kind of underlayment for roofs is made of felt that has been soaked with asphalt. Felt saturated in asphalt is sometimes referred to as felt paper or roofing felt.
Pros
Cost-effective
Protects and insulates the roof deck
Layers add further protection
Cons
Not as durable or flexible as other varieties
Often weighs more than other roofing materials
Best Uses
Low-cost roof repairs
Slate shingles
Tile shingles
Felt underlayment is comparable to tar paper, except that asphalt, rather than tar, serves as the waterproofing component.
Roofing felt is still popular for roof underlayment because it is the most cost-effective option available. This underlayment can improve the roof deck's durability, which protects it from impact damage caused by hailstones or other forms of flying debris, such as tree branches.
Roofing professionals may lay roof underlayment in numerous layers to give extra protection to the house. It is available in two standard weights, 15 pounds per one hundred sq ft (No. 15 felt) and 30 pounds per one hundred sq ft (No. 30 felt).
For light-duty jobs, it is advised to use felt with a number 15, such as for completing a small project like a detached garage or shed. Number 30 felt should be used to protect your whole house.
This type of roof underlayment has been in use for decades. It provides the necessary insulation from the elements and protection from the dangers of roof leaks. Although most homes use felt for its basic protective properties and low cost, it cannot compare to the synthetic roof or rubberized asphalt underlayment, especially in terms of flexibility and durability.
Synthetic Underlayment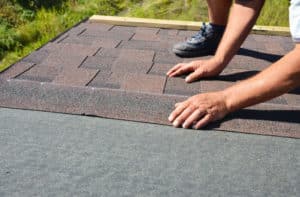 Synthetic underlayment is the right choice for you if you live in a moderate climate, especially if your home is prone to hail or ice damage.
Pros
Excellent durability
Resists mold and tearing
Guidelines for easy installation
Cons
Not as waterproof as rubberized asphalt
Costs more than other roofing materials
Best Uses
Homes in moderate climates
Mold-prone homes
Mid-range roofing applications
Synthetic underlayment is made from polypropylene or polyethylene. These roofing underlay materials are designed to be more durable than traditional asphalt-impregnated paper. It's also resistant to heat and moisture, so it won't crack from age or carry mold as easily.
Synthetic underlayment costs a bit more than its felt counterpart, but that extra cost may be worth it if you're looking for protection against hail and ice. It is still less expensive than rubberized asphalt underlayment.
The underlayment's anti-slip characteristics make it safer to walk on during installation. Additionally, synthetic underlayment's flexibility makes it less likely to rip when temperatures rise and fall.
Compared to other underlayment choices, these rolls are often more lightweight and typically have distinct lines and overlap indications to facilitate speedy and accurate installation.
Rubberized Asphalt Underlayment
There are multiple brands of this underlayment that have somewhat different compositions, but they are always made with rubber polymers and asphalt.
Pros
Variable designs to improve durability
Stretches and compresses with weather fluctuations
Self-adherent backing
Cons
Most expensive underlayment option
There are many choices and not all are equal
Best Uses
Extreme weather
Premium roofing applications
Soundproofing
Rubberized asphalt underlayment can withstand expansion and contraction without cracking or breaking due to the nature of the material. It is an ideal option for areas that undergo dramatic temperature swings during the year.
This self-adhering roofing underlay material may be applied directly to a roof deck, saving time during installation. With the adhesive's aid, a watertight barrier is created between the underlayment and the deck, stopping rain from getting into the roof.
However, rubberized asphalt underlayment is often more expensive than the other two roof underlayment types. If you are looking for a way to cut costs, this might not be the best option for your needs.
The Bottom Line
Roof underlayment is a critical part of any roofing job, and it's important to know what kind you should use. We hope this article has helped you understand the different types and their pros and cons. If you still have questions or want more information on how to find the best one for your home, don't hesitate to contact us today.
Our team at Perfect Exteriors is happy to answer any questions about roofing underlay materials and installation processes so that we can help ensure everything goes smoothly with your next project.