Metal roofing is a versatile roofing option that works well in both residential and commercial applications, It is favored for its durability and long life span. What you may not know is that metal roofing is available in more than just one style. As one of the roofers that offer metal roofing, we discuss what these options are.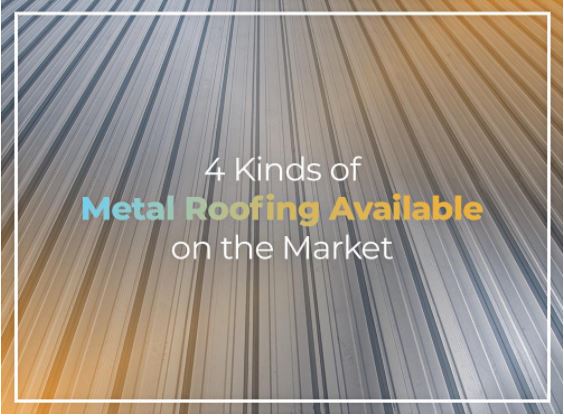 Vertical Panels
Vertical panels are the most common type of metal roofing. Also known as standing seam roofing, vertical panels are installed as single sheets from ridge to eave. Overlapping crimped panels shaped like an inverted U form the seams and serve as a dam that keeps rainwater flowing to the gutters. 5V-crimp metal roofing is another type of vertical panel that has both ends double-crimped, forming inverted W shapes, with an inverted V-shaped crimp in the middle (forming 5 Vs). The W-shaped overlaps provide better protection against rainwater seepage.
Metal Slate and Shingles
To keep the look of slate or asphalt shingles with the benefits of metal roofs, you can do so with metal slate or shingles. It is impact- and wind-resistant like all roofing options; and in the case of metal slate roofing, it is much lighter than the original material. No need to modify your existing roof structure to accommodate it.
Metal Tiles
Traditional tile roofs are often seen in homes with Spanish and Mediterranean architecture, a beautiful and long-lasting residential roofing option in itself. However, it is also much heavier than most roofing options, and the roof deck would require modification to support its weight. Metal tile, again, comes to the rescue; it looks like clay tile roofing even up close, but is much lighter and can be installed on any existing roof deck. The installation process is also much simpler and lets contractors finish installation much quicker.
Metal Shakes
Wood shakes are as traditional as roofing materials can get, but not all homeowners have the time or resources to maintain its upkeep. Metal shakes are a great way to take advantage of the rustic look offered by traditional wood shakes and still enjoy the benefits for which metal roofs are known. It can even replicate the wood grain and the uneven, hand-cut look.
Perfect Exteriors of Minnesota offers quality metal roofing options from EDCO and Fabral®. Call us today at (761) 271-8700, or fill out our contact form to request a free, no-obligation inspection and estimate. We serve Elk River, MN, and nearby areas in Minnesota.