Roof Replacement Company Osseo MN- When Reliability Really Counts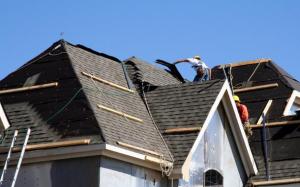 One of the key tenets of any roof replacement company Osseo MN has to be reliability. When you need your roof replacement done you likely need it done as quickly as possible. Your roof is one of the key systems of your property a bad roof can lead to a slew of other system failures it just is not something that you can put off.
It is also something that has to be addressed by a reliable company. Many complaints have been lodged with the Better Business Bureau against roofing companies. Unfortunately there are plenty of companies that crop up and shortly disappear once the work is done.
When you have shoddy roof work done by a less than reliable roofing company you are really setting your property up for failure. A reliable roof replacement company Osseo MN is an absolute necessity. At Perfect Exteriors we raise the bar on reliability.
A New Level of Reliable Roof Replacement Company Osseo MN
You pay for a job you deserve to have the job done in a timely manner and to be treated with the utmost respect. You also deserve to know that people you are doing business with and that they will be around for a long time after the job is done.
You want to know that if you need your roof replacement company Osseo MN to fulfill their warranty or work guarantee that they are going to be around. You also want to be sure that you are dealing with an established company that takes pride in their ability to do a job well done.
Perfect Exteriors is that company. We have over 30 years of experience in serving the Twin Cities area and have plans of being around for another 30 years. Our pride in taking care of all of our customers roofing needs runs deep in the community.
As a well established locally owned business we look at our commitment to our customers as a commitment to our neighbors. Taking care of your roofing needs by offering top notch reliable service actually serves us well because we work and live in your community!
Reliable roof repair is available from one of your neighbors.
Give Us A Call For Roof Replacement Company Osseo MN
Give us a call and get your free no obligation estimate for your roof replacement. We are here to serve you! Let us be your roof replacement company Osseo MN!