A leaky roof isn't the quaint home quirk you see in the movies, where a character just stashes a pot underneath it and resumes the scene. Nope, it's a bona fide house-ruiner, as moisture damage sets the stage for everything from mold growth to, yes, even your roof caving in if it gets severe enough.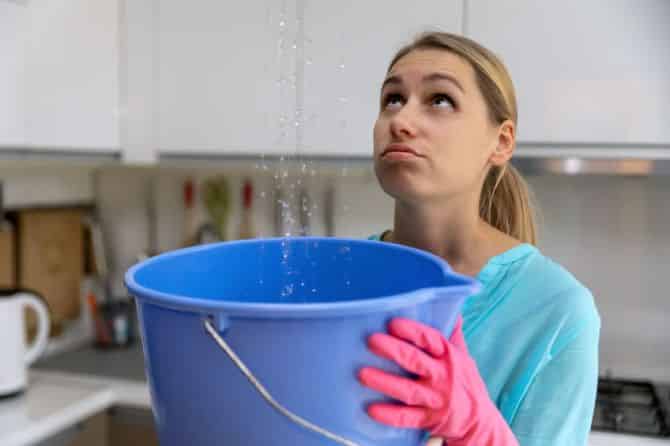 A leaky roof takes a while to progress into risky territory, so if yours hasn't been going on for a while, there's no need to panic or to worry for your family's immediate safety. What there is a need for, though, is for you to take action—and we at Perfect Exteriors, as your Monticello exterior contractors of choice, are here to describe how to do just that.
Start With Damage Control
There are bound to be items underneath the leak (Murphy's law, of course). Move them out of the way! Just like you would with a burst pipe, you need to leap into your rescue mission if you want to salvage your belongings. If they're electronic, though, make sure they're unplugged before moving them. Water and electricity don't mix.
Then, to stop water from further drenching your floor, toss a plastic storage bin, pot, or similar wide-brimmed container under the leak.
Begin Water Cleanup
A leaky roof isn't usually severe enough to warrant the help of a remediation team. If you've got a wet-vac on hand, or perhaps even a towel and some elbow grease, you usually can mop up most of the damage. Don't be afraid, though, to pull back the carpet if it's particularly sodden; leaving underlayment wet can result in a nasty mold infestation.
Call the Pros
You'll need a home exterior contractor to fix this problem, so once you've gotten the situation under control, call one up. There's simply no way around this step, because assessing where a leak is coming from is far from straightforward, even if it appears so.
Sure, for example, the cause of the leak could be a simple issue with your shingles, but in that case you'd still need a team of roofers to get beneath the surface and assess how far the water damage has expanded to. Roofing issues often can be hard to spot in the first place, too, and often require inspecting everything from flashing to the drip edge—and you might not even know what those parts are, let alone how to fix them!
Relax: Perfect Exteriors Has Fast Solutions for Your Leaky Roof!
Our Monticello team of exterior home contractors does more than patch roofing leaks; we get to the root of the problem and do the work to get your home looking better than its best. Give us a call today at 763-271-8700.