Throughout the years, Perfect Exteriors of Minnesota has received several awards from the leading brand in the roofing industry – GAF®. These recognitions signify our ceaseless efforts in improving our services to provide a satisfactory experience to our clients. Let us talk about several awards that prove we are the top choice for roofing in Minneapolis, MN.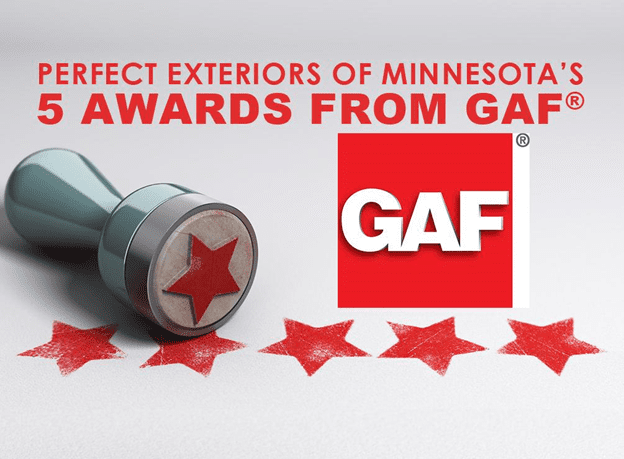 1. Presidents Club Award
This prestigious designation has strict eligibility requirements that
2. Installation Excellence Award
As a certified GAF Master Elite™ roofing contractor in Minneapolis, MN, we do our best to provide seamless installation services to our clients. This award recognizes our multiple flawless roof installations that have gone through GAF's stringent quality inspection.
3. Training Excellence Award
All GAF contractors need to undergo factory training in order to install the shingles properly. As we highly value ongoing expert training, GAF has given us this award that signifies our exceptional dedication to continuous progress. We always make sure that we are updated with the latest roofing technologies in order to provide quality services.
4. Training Consumer Protection Award
GAF is known for its broad warranty packages designed to protect the roofing investment of home and building owners. In order to communicate these properly, a roofing contractor should have a deep understanding of their implications and conditions. We ensure that our clients are fully aware of the benefits and warranty protection included in their re-roofing projects.
5. Certified Green Roofer
As your trusted roofing company in Minneapolis, MN, we take our duty to the environment seriously. That's why we always recycle shingles from tear offs where it's available. We received the green roofer title for our sustainable business practices to reduce our company's carbon footprint.
When planning for a re-roof, make sure to hire a contractor with years of proven reputation. Turn to us for all your roofing needs. We promise a smooth and hassle-free experience for your satisfaction. Call us today at (763) 271-8700 to learn more about our products and services.