If you've had a recent roofing inspection, you might have received the news that it's time to replace your roof. A roof replacement is usually required after an emergency, extra damage, or severe storm. If no damage occurs, most roofs can last between 12-20 years without a roof replacement. However, if it's time to replace your roof, you shouldn't wait too long.
When scheduling a roofing inspection, you might be wondering, "How long does it take to replace a roof?" Here is a guide on how long it will take to replace your roof and the typical roof replacement timelines.
The Time It Takes to Replace a Roof
How long does it take to replace a roof? The actual process of roof replacement will take about 1 to12 days, depending on the size and shape of your roof. However, from the moment you decide to replace your roof to when the project is finished, it could take several weeks or months to complete. 
That is because there are several steps to roof replacement, and timelines can vary based on the project. It also depends on what season you schedule your roof repair in. Winter is the least busy, but the weather is the most inconsistent and can affect your timeline. Summer is a popular time, but storms and heat can affect workers.
Spring or fall is the best time of year to get your roof done because the weather is the most consistent and won't interfere with your roof replacement. However, it's extremely busy, and you'll have to schedule it in advance.
Of course, these seasons can vary on where you live and what roof replacement company you choose. Talk to your local roofing experts to ensure you have the best timeline possible in order to prepare your home for inclement weather.
Typical Roof Replacement Timelines
From beginning to end, a roof replacement can take anywhere from three weeks to three months. The actual replacement process, when workers will be at your home, is generally anywhere from two days to two weeks long. 
To be able to answer the question of how long does it take to replace a roof, you will need to take into account the weather, the size of your home, and what type of roofing materials you choose.
Once you've signed the contract and scheduled the roof replacement, workers will come and set up their workstations. Depending on your schedule and the local roofing company, the initial inspection, design process, and contract signing can take as little as a few days, or as long as several weeks.
However, as soon as you've designed your new roof and scheduled the roof replacement, you won't need to worry about the timeline. The roofing company will take over from there to prepare and complete your new roof. All you need to do is pay the company and complete the final inspections with the workers.
Roof Replacement Steps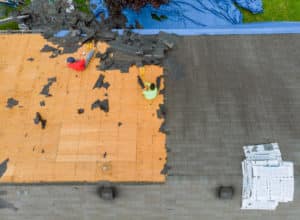 Now that you know the answer to the question of how long does it take to replace a roof, there are several steps in a roof replacement process. The first three rely on the homeowner to schedule inspections and design a roof. However, the moment you've scheduled your roof installation, you can relax and let the professionals take care of your new roof.
Initial Inspection
You should schedule a roof inspection to check for any storm damage, if you haven't recently inspected or replaced your roof. An inspection is also advisable if you've just moved into a home and it's older than 15 years. The inspector will give you an accurate estimate of how much of your roof is worn out. If it's over 30%, you will likely need a replacement.
Design Meetings
Once the experts have told you that you need a roof replacement, you get to choose what your new roof will look like. Depending on how fancy your new roof will be, this part of the process could take a while. If you order less common roof materials, it might take longer for them to arrive.
Contract Signing
After you've completed your roof design, you will sign a contract for a roof replacement with those designs. This moment is also when you confirm how long it will take to replace your roof. You schedule your roof installation depending on the contractor's availability and the seasonal weather. Once the contract is signed, your part of the work is over.
Roof Replacement
At this point, the agreements are all signed and ready. You've scheduled your roof replacement, and as long as the weather is great, the workers will show up the day before to set up a dumpster and tarps. You can prepare your driveway by moving your cars and outdoor furniture and preparing a spot for the workers.
The first step of a roof replacement is taking off the old roof. Workers usually work from the farthest corners of the roof to where the dumpster is to be as efficient as possible. As they tear off your old roof, they will examine the underside of it for damage and replace any lumber necessary.
Once enough of the roof is cleared, the team will split up. Half of the roofing contractors will continue to strip the roof, while the other half will start at the back of the house and begin to install the new roof. This system increases efficiency and makes it easier to complete the roofing.
Once the first group finishes taking off the shingles, they will join the secondary group and complete the new roof. While the foreman of the group takes you on a tour of your new roof, the workers will clean up the debris and remove the dumpster from your driveway when they have completed the project.
What Might Delay a Roof Replacement?
There are several reasons a scheduled roof replacement might be delayed, so the answer to the question of how long does it take to replace a roof may differ. While the most common are weather or extremely busy roofing contractors, here are some other reasons that a roof replacement might take longer:
Wrong season for roof replacement
Inclement weather
Contractor has a full schedule
Financing reasons
Shingles or equipment have not arrived
Worker shortage
So, how long does it take to replace a roof with these delays? Each of these reasons could delay your roof installation or replacement. However, they shouldn't delay it too much, and you will be able to enjoy a new roof over your head sooner rather than later.
Perfect Exterior for Your Roofing Needs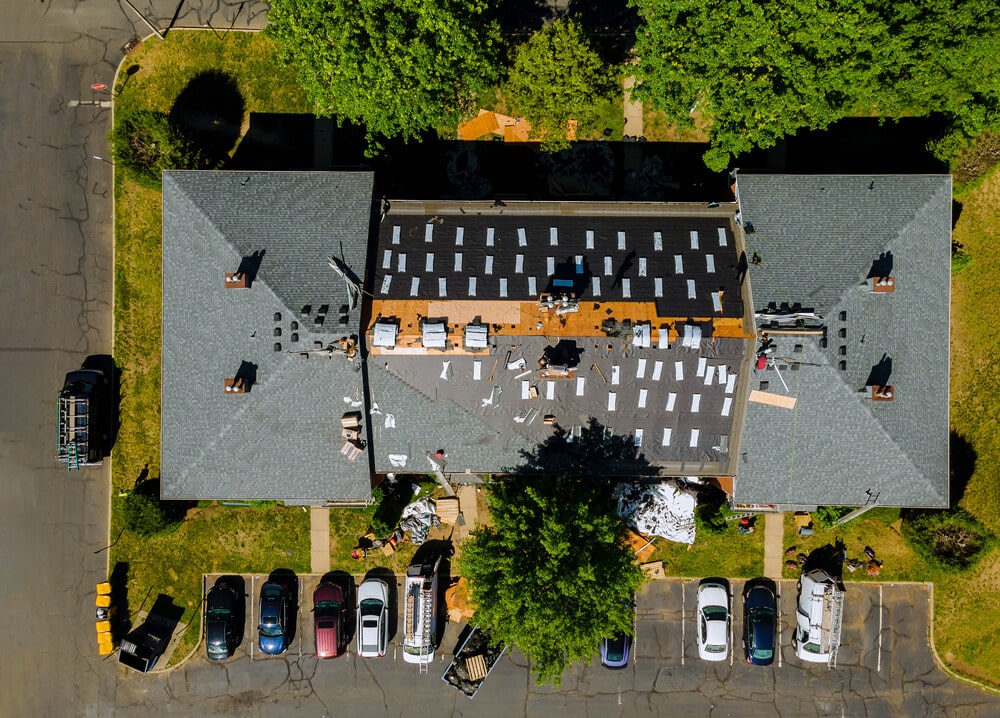 Although roof replacements can be expensive, it's always a good idea to invest in them before calamity strikes. Now that you know the answer to the question of how long does it take to replace a roof, think ahead and schedule a roof installation or replacement now.
If you are looking to replace your old roof, contact one of our experts of Perfect Exterior today and ask for a free consultation.