The weather might seem docile now, but once summer picks up, Minnesota always sees its fair share of storms, and with it, hail! The most severe types can take their toll on even the most well-maintained roofs, so it's important that you know what to look for when it comes to damage from this home-exterior menace. Leaving it alone can result in anything from mold problems to soggy, inefficient insulation—and who wants that come wintertime?
Perfect Exteriors, your Monticello exterior contractors and hail damage experts, is here with all the information you need to keep your home safe in the upcoming storm damage season.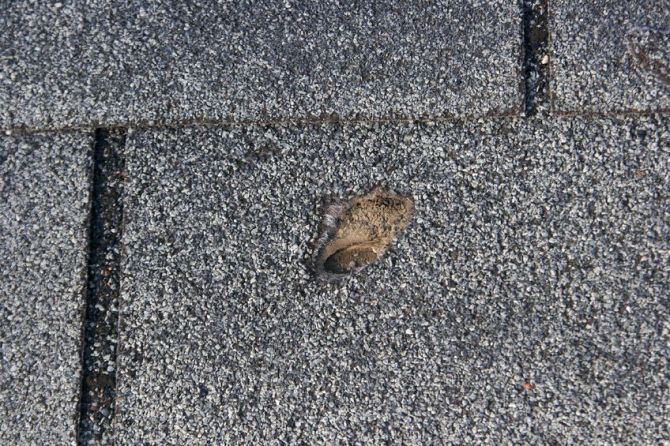 Polka-Dot Pockmarks Are the Most Obvious Sign
If your roof is looking like your favorite speckled dress shirt, no doubt you've got hail problems! It's easy to see even from ground-level when your roof has regular softball-sized indents—and it's also easy to see why they might cause issues.
However, even finer sprinklings of this sort of damage can cause long-term problems when ignored—and they unfortunately can be a bit harder to spot, even with 20/20 vision. If you've had a hailstorm recently but cannot detect any carnage from ground level, we thus recommend you still have a storm damage contractor out to do a thorough inspection up-close.
Lost Granules: A Common Asphalt Roofing Indicator
Asphalt roofing is so tough that it often just takes a bit of a shave from many types of hail damage. In other words, it loses granules—the rough stuff that sits on top of the shingle and gives it texture. Damage to this area often looks like
Darkened splotches
Exposed substrate
Irregular texture (smooth in some areas, rough in others)
A roof shingle that looks hilly or pockmarked—sometimes lost granules can occur with denting
Don't Let Your Shingles Crack Up
Outright cracking in roofing shingles is rare if you've properly maintained your roof—but with rough enough storming, it can happen.
A crack in your shingles is just as it sounds: something that splits it and makes it look like a miniature meteor-impact site. Cracks are not always easy to find, though, especially since from a safe, ground-level view you probably can see less than half of your roof.
It's just another reason to get a home exterior contractor out to do a full inspection post-storm. With enough cracking, your shingles could eventually crumble, leaving your roof unprotected and your family unsheltered.
Contact Perfect Exteriors for Thorough Storm Damage Inspections
We're no storm chasers: we're the real deal, as our countless satisfied customers and five-star reviews prove. When you need storm help, you know who to call—reach our Monticello office at 763-271-8700.