Siding Installation Contractor in Wayzata, Minnesota
Perfect Exteriors is a Wayzata siding contractor serving the community for over two decades. Specializing in exterior home siding, we offer a variety of styles, colors, and product options to best fit each customer's needs.
There are many benefits to investing in new siding, including increasing your home's curb appeal, value, and energy efficiency.
Premium Wayzata Siding Replacement Contractor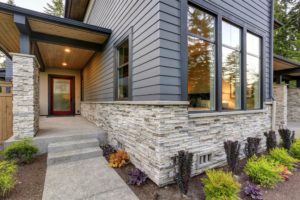 We offer countless options when it comes to the color, style, and material of our siding solutions. With this level of variety, our professionals can work closely with you to find the best option for your home.
Some of our siding options include vinyl, steel, and fiber cement. Whether you are looking for style or durability, we have you covered.
#1. Vinyl Siding
Vinyl siding is a long-lasting and maintenance-free option for people looking to add siding to their homes. Our vinyl siding comes in a continuously growing range of colors to fit each homeowner's specific preference.
Many of our vinyl siding products come from some of the most trusted manufacturers in the business! Vinyl siding is maintenance-free, budget-friendly, and customizable for your desired look!
#2. Steel Siding
One of the most durable types of siding is steel siding. Steel can withstand some of the toughest weather while keeping you and your family comfortable inside. Steel siding is both energy-efficient and cost-effective, with minimal maintenance required over time.
It can also hold in heat during the winter months, saving you money over time on energy costs. For siding that can handle even extreme Wayzata weather while remaining stylish, steel siding is the way to go!
#3. Fiber Cement Siding
A siding option that is gaining popularity is fiber cement siding. Fiber cement siding is one of the longest-lasting siding materials on the market. Not only will the color remain vibrant for years to come, but it will also withstand any pests, moisture, UV rays, and severe weather.
This siding is also non-combustible, adding extra protection to your home. The best part? This enhanced durability means little to no maintenance!
#4. LP SmartSide
Those who prefer a more traditional look may opt for our LP SmartSide siding. This siding is manufactured to have all of the beauty of natural wood, with the durability needed to withstand weather and time.
If you are concerned that our engineered wood may not last as long as a different siding option, no worries! Our LP SmartSide siding comes with a warranty, so your satisfaction is guaranteed to last.
High-Quality Siding Installation for Wayzata Homes
Perfect Exteriors strives to offer a variety of products to suit every customer's needs. Our company provides a guarantee that our products will last for years to come while continuing to provide all of the benefits of the desired siding.
These benefits include increased curb appeal, lowered energy costs, and weather protection. To achieve this, we offer products from three of the highest quality siding manufacturers.
James Hardie Siding
A manufacturer that specializes in fiber cement siding is James Hardie Siding. James Hardie offers quality and longevity that other manufacturers may lack.
Their fiber cement siding is engineered to withstand extreme weather while maintaining its sleek and vibrant look.
Mastic by Ply Gem
Mastic by Ply Gem is a top vinyl siding manufacturer known for its colors, styles, and durability. With SolarDefense Reflective Technology, this vinyl siding can withstand harsh UV rays without fading over time. Mastic also helps keep your home cool in the hot summer months by reflecting the heat.
EDCO Siding
For steel siding that will last a lifetime, EDCO Siding is the way to go. Not only is this siding customizable with many styles, colors, and finish options to choose from, it is one of the most durable forms of siding on the market. The look of this siding is timeless, and it is made to last a lifetime.
The Best Wayzata Siding Contractors
Our goal at Perfect Exteriors is to be the best choice for siding services in Wayzata, Minnesota. We have proudly served the community for many years and prioritize quality, knowledgeable and friendly service, and customer satisfaction.
Our workers are experts within the field, ready to take your home siding to the next level with our products.
Excellent Customer Service
Our customers are like our family. We put the needs of our customers first, always, so your satisfaction is guaranteed.
Perfect Exteriors is fully licensed and insured, with highly skilled workers who are ready to provide quality service to each of our valued customers. For your satisfaction, we also offer free estimates and inspections!
High-Quality Products and Partnerships
Perfect Exteriors are partnered with top brands such as EDCO, Andersen, GAF, and James Hardie to provide our customers with the highest quality siding available.
Our wide variety of materials and colors are made to survive the test of time, extreme weather, and wear and tear. Siding is the first line of defense when it comes to protecting your home from severe weather, and we are here to help.
Excellent Siding Workmanship
Our workers at Perfect Exteriors will ensure each job is done efficiently and accurately for every customer. Our high-quality work is recognized in our reviews, where satisfied customers share their experiences working with Perfect Exteriors.
We pride ourselves on our customer service, and will even clean the work area each day to prevent unwanted mess and damage to your yard.
Free Siding Estimate for Wayzata Homeowners
If you reside in Wayzata, Minnesota, and are looking for a trustworthy, high-quality siding installation contractor, look no further than Perfect Exteriors.
Our licensed, insured, and friendly workers will work with you to guarantee your satisfaction. If you want to learn more about what we offer, contact us for a free estimate!