Siding Installation Contractor in Rogers, Minnesota
A lot of Minnesotans need new siding installation for their homes for many reasons. Some of your neighbors may have turned to Perfect Exteriors for our commitment to quality and energy efficiency. Siding replacement can boost curb appeal, adding a boost to their home value as well. Whatever the initial reason, homeowners who have chosen siding installation reap all its benefits. You can, too! Call upon the experienced staff at Perfect Exteriors, and make us your Rogers siding contractor.
Premium Rogers Siding Replacement Contractor
When you choose someone to work on your home, you want the best. After all, your home is one of the largest investments you will ever make. Look no further than Perfect Exteriors to find the best Rogers siding contractors in the area. Whether you are considering vinyl siding, steel siding, or fiber cement siding, we have a vast amount of experience in all forms of siding installation and siding replacement. We welcome the opportunity to come out to your home and discuss your Rogers siding installation options with you.
Vinyl Siding
Vinyl offers durability coupled with a wide range of colors, styles, and profiles to customize your home the way you want. We have teamed with some of the most trusted manufacturers of vinyl siding including Royal Building Products, Mastic, and Alside.
Some of the vinyl siding options Perfect Exteriors, your local Rogers siding contractor, has installed include:
Carvedwood
Ovation
Charter Oak
Royal Woodland
Quest
Steel Siding
Steel siding is one of the best options available in Rogers siding installation. With all the weather factors Minnesota homes face every year, steel siding offers some of the best protection. Steel siding requires little maintenance and it won't peel, chip, or rust.
For steel siding, Perfect Exteriors has partnered with EDCO, the top manufacturer of residential steel siding and roofing throughout the country. Look to steel for durability, energy efficiency, and a lifetime warranty.
Fiber Cement Siding
Whether you are looking to renovate an older home or are building a new house, you may want to consider fiber cement siding for your Rogers siding installation. We work with James Hardie siding, some of the most innovative available and in an array of styles and colors sure to meet your needs and desires. Made of composite cement with reinforced cellulose fibers, fiber cement siding is designed to last without fading.
LP SmartSide
One wood siding manufacturer we work with and highly recommend is LP SmartSide. If you enjoy the traditional wood look, we consider LP SmartSide as your best option for Rogers siding installation in wood. It is available in:
Cedar shakes
Lap siding
Panel siding
Vertical siding
Perfection shingle
Each with its unique features and top craftsmanship, whether you want siding replacement on an older home or installation on a new house.
High-Quality Siding Installation for Rogers Homes
You may be starting to see a trend here. Perfect Exteriors uses only the best materials available for our siding customers. James Hardie fiber cement siding, Ply Gem's Mastic vinyl siding and EDCO's metal siding are nothing but the best options. And that is what your Rogers siding company wants to offer – the best. Look to Perfect Exteriors for your siding installation, no matter what type of siding you choose.
James Hardie Siding
If your heart is set on fiber cement siding, your trusted Rogers siding contractor has you covered with siding manufactured by James Hardie. Choose from a rainbow of colors that will last for years to come without fading or chipping. James Hardie fiber cement siding resists fire, moisture, and pests and is the perfect exterior siding for Minnesota winters and summers.
Mastic by Ply Gem
If vinyl siding is your thing, Perfect Exteriors suggests Mastic by Ply Gem, the best quality residential siding available today. Ply Gem leads the way in vinyl siding with Mastic available in many styles and colors. Mastic vinyl siding is well-known for its beauty and durability. As your Rogers siding company, let us show you what makes Mastic the best choice in vinyl siding.
[Learn More] CTA Button
EDCO Siding
Steel siding deserves your consideration, especially when it's EDCO. As your Rogers siding contractor, we are proud to offer EDCO metal siding. Timeless, durable, dependable steel offers longevity and beauty that pales others by comparison. Let us show you the wide array of styles and colors EDCO metal siding has to offer.
The Best Rogers Siding Contractors
When looking for a siding contractor for your home, you should be picky. Siding is a large investment and one you will live with for many years to come. Perfect Exteriors understands this and as your Rogers siding contractor, we are happy to sit down to offer all your options and address any of your concerns. We appreciate the opportunity and trust our valued customers have given us for years and look forward to helping you, too.
Excellent Customer Service
The Perfect Exteriors team has been locally owned and operated since 2002. We are known throughout Minnesota for our top-quality workmanship, products, and sincere dedication to serving our customers. We are fully licensed and insured for the work that we do and have an A+ rating with the Better Business Bureau. Call us for a free inspection of your home and a free estimate for your choice of siding.
High-Quality Products and Partnerships
We continued to maintain partnerships with the greatest manufacturers of siding materials including EDCO, Andersen, Ply Gem, GAF, and James Hardie. It is through the relationships we have built that we can offer you the highest quality siding products today.
Excellent Siding Workmanship
High-quality products deserve top-quality workmanship and that is what Perfect Exteriors, your Rogers siding company, offers you. We take the time to do it right, the way you want it. Our siding installation and siding replacement teams also take time to clean up after themselves at the end of the day to keep your yard clean and free from debris. Our customers say it all.
Free Siding Estimate for Rogers Homeowners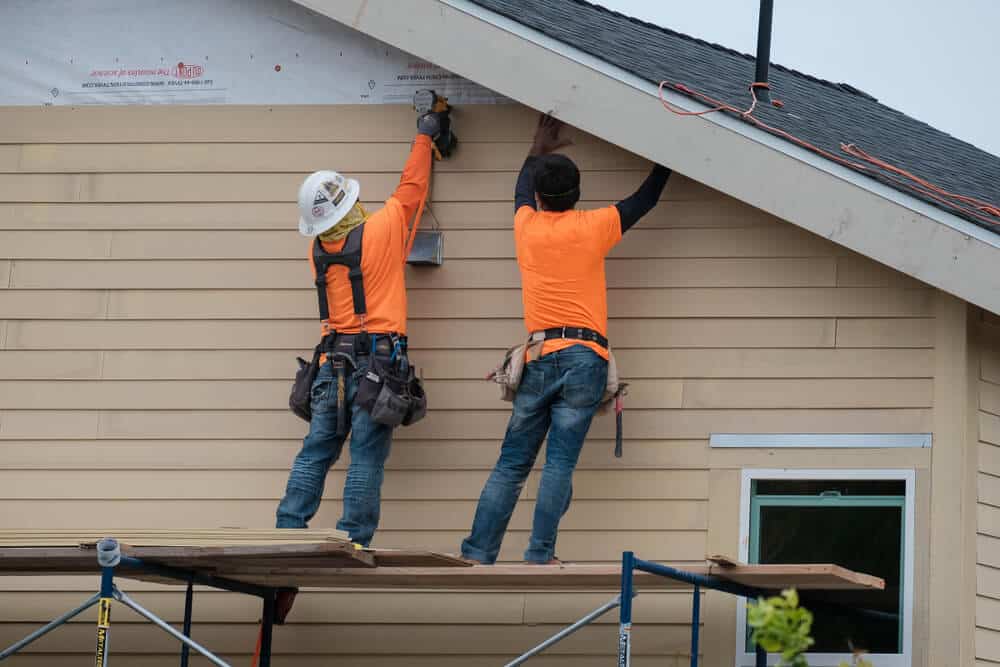 When you are ready to talk about siding for your home, so are we. Make Perfect Exteriors your Rogers siding company. Contact us and let's get to work on your project today.