Experienced Siding Contractor Rogers MN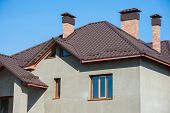 When it comes to keeping your home looking great, few elements are as important as your siding. Perfect Exteriors has been a siding contractor in Rogers, MN for over thirty years, and has built an unmatched reputation for results, service, and customer satisfaction over that time.
Major Advantages As A Siding Contractor Rogers MN
Here are two major advantages to contracting with Perfect Exteriors to repair or replace the siding on your home:
Improved Aesthetics – If your siding is in need of repair or replacement, you likely are aware of it each and every time you pull into your driveway. Hiring a reputable siding contractor in Rogers, MN can help you dramatically improve the aesthetics and appearance of your property.
Increased Home Value – When you are thinking about putting your home on the market, you want to do everything you can to maximize the size of the offers you will receive. Hiring a siding contractor in Rogers, MN to touch up your home's exterior can make a big difference at closing.
Call Us For Siding Contractor Rogers MN
For further information, or to request a free consultation, give Perfect Exteriors a call. They will work with you to address your siding needs in a way that no other siding contractor Rogers MN is capable of.