Siding Installation Contractor in Osseo, MN
Living in Minnesota, our homes take a beating. We deal with wind, rain, hail, UV rays, the occasional tornado, and, of course, snow. When the time comes to replace or upgrade your home's siding, you need the experts to do it right.
Perfect Exteriors has been serving the Twin Cities area for over 25 years. We offer high-quality workmanship and premium products in various styles and are fully licensed and insured. We're proud to be a premium option for an Osseo siding contractor.
Premium Osseo Siding Replacement Contractor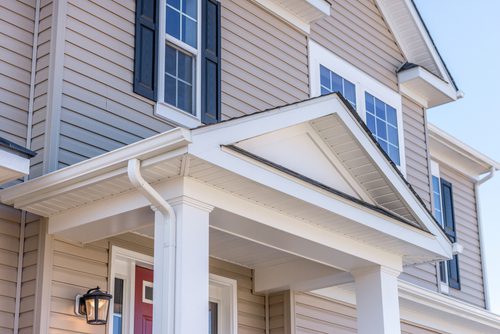 Perfect Exteriors is experienced and licensed to work with many different siding materials and brands as an Osseo siding company. We're pleased to offer our customers vinyl, steel, fiber cement, and LP Smartside siding options.
You need choice when it comes to your Osseo siding installation. The elite brands we partner with like Mastic, EDCO, and James Hardie provide strong, durable, and beautiful siding in an endless combination of design styles, colors, and finishes.
#1. Vinyl Siding
Vinyl siding is one of our most popular options. Because vinyl is durable and low-maintenance, it's perfect for rough Minnesota winters. Perfect Exteriors has been professionally installing vinyl siding for years, and we are happy to help you choose the style of vinyl siding that best suits your taste and budget.
The options for colors and styles of vinyl siding have grown substantially over the years. Across the Mastic, Alside, and Royal Building Products brands, we're sure to have a siding option that meets your needs.
At Perfect Exteriors, we are experienced and authorized to install the following:
Carvedwood Vinyl Siding (Mastic)
Quest Vinyl Siding (Mastic)
Ovation Vinyl Siding (Mastic)
Charter Vinyl Siding (Alside)
Estate Vinyl Siding (Royal Building Products)
Royal Woodland Vinyl Siding (Royal Building Products)
Residential Vinyl Siding (Royal Building Products)
#2. Steel Siding
Steel siding is similar to vinyl in that it's low maintenance, but it's even more durable. Steel siding can withstand the harsh Minnesota winters without peeling, chipping, or rusting. It's also energy-efficient, sealing in the heat for the winters and deflecting the hot sun in summers.
Perfect Exteriors contracts exclusively through EDCO for our steel siding. This gives our customers access to the variety of colors and styles EDCO offers and their lifetime warranty.
#3. Fiber Cement Siding
Fiber cement siding is another great option that is low-maintenance and durable enough for Minnesota's harshest winters. This type of siding is a blend of composite cement and cellulose fibers and can withstand weather, pests, moisture, and fire.
Perfect Exteriors uses James Hardie fiber cement siding. This allows us to offer a range of styles to match the original aesthetic of your home and a multitude of color options that don't fade over time.
#4. LP Smartside
LP Smartside siding is the premier choice for engineered wood siding. While it looks like traditional wood, it's far more durable and able to withstand Minnesota winters. Partnered with a powerful warranty, LP Smartside keeps you and your family safe in style.
LP Smartside is available in several styles that mimic traditional wood, like lap siding, panel siding, vertical siding, cedar shakes siding, and shingle siding. This allows us to help replace your traditional wood siding with something stronger without sacrificing your home's original design.
High-Quality Osseo Siding Installation Products
At Perfect Exteriors, we are pleased to partner with brands that look great and can withstand time and whatever blizzards get thrown our way. If you need quality siding replacement, you cannot go wrong with these.
James Hardie Siding
James Hardie fiber cement siding is ideal for keeping your home safe from the elements. It offers protection from all forms of weather, from UV rays to wind to blizzards. It's also specially engineered to offer protection from moisture, fire, and pests.
With James Hardie fiber cement siding, you can find this protection in various color options. Whether you choose a warm tone or a cool one, dark color or light, you never have to sacrifice design for durability.
Mastic by Ply Gem
There are a lot of vinyl siding options out there. At Perfect Exteriors, we only partner with the best, so we're pleased to offer our customers Mastic by Ply Gem siding. There are many reasons we love Mastic, like their SolarDefense Reflective Technology, which is energy-efficient by keeping out the sun's UV rays and also makes your siding resistant to fading.
No matter what design style your home is, Mastic has options for you. Mastic is available in many colors and siding styles, all with warranty-backed quality.
EDCO Siding
Steel siding has grown in popularity in Minnesota as our weather becomes increasingly less predictable. At Perfect Exteriors, we've chosen to partner with EDCO because of their unparalleled quality.
In addition to energy efficiency and durability, we love EDCO because of the impressive range of styles, colors, and finishes they offer. You can choose what looks best for you, and we'll take care of the rest so you can have beautiful, long-lasting siding backed by EDCO's lifetime warranty.
The Best Osseo Siding Contractor
With our long history of work in the Twin Cities area, Perfect Exteriors is the best option for your Osseo home as Osseo Siding Contractors. We offer excellent customer service and workmanship and high-quality products and partners, all backed by real customer reviews and experiences.
Excellent Customer Service
Our customers are extremely valuable to us at Perfect Exteriors, so we put so much care into our customer service.
We know that home repairs and projects can be stressful. To help make the whole process smooth and stress-free, we offer:
Obligation-free, no cost estimates and quotes
Year-round siding replacement
Financing options
Insurance assistance
Licensed and insured work
High-Quality Products & Partnerships
Quality is one of our top priorities, which is why we partner with some of the best brands available to provide you with beautiful and durable siding. By choosing partners like Mastic, James Hardie, and EDCO, we can provide you with high-quality options for material, style, color, and finish.
Excellent Siding Workmanship
We pride ourselves on the excellent Osseo siding installation we do. We ensure that the job is done right the first time and finished on time. We also take extra care to prevent messes and lawn damage. You don't have to take our word for it; on Google, we average 4.9 stars from nearly 300 reviewers.
Perfect Exteriors is a GAF Master Elite® Roofer, a GAF Certified Green Roofer™, a Haag Certified Inspector, and an EPA Lead Certified Contractor. We've been awarded the Reader's Choice Award for Best Window and Siding Company by the Monticello Times, the Best of HomeAdvisor Award, the GAF President's Club Award, and the GAF Triple Excellence Award.
Free Siding Estimate for Osseo Homeowners
If your Osseo home's siding has seen better days, we're here to help. We offer free inspections and estimates to all our customers with no obligation.