Residential Roofing Contractor Rockford MN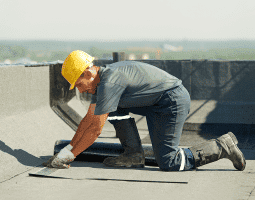 If you are looking for a roofing contractor Rockford, MN you have numerous options open to you. With one simple Google search, you can find dozens of companies that you can ask to work on your roof. For those who want a company in Rockford, there are companies that you can reach out to and ask about their services. The first and the leading roofing company is Perfect Exteriors. This company has a variety of different services as well as amazing testimonials to back their work.
Perfect Exteriors is a roofing contractor out of Rockford, Minnesota specializing in commercial roofing for not only new structures but existing buildings that are in need of repair. This company will come out and perform an inspection as well as provide maintenance and repair services and even snow and ice removal to ensure that your commercial buildings roof stays in the best condition possible. Many of their past clients recommend this company for any job, big or small, to ensure that your business stays up and running without having to be concerned about the condition of your roof.
Commercial Roofing Contractor Rockford MN
Perfect Exteriors is also a commercial roofing company out of Rockford, Minnesota and also specializes in commercial roofing. They will provide you with many different options for your roof to help ensure your building has the look that you want including asphalt and metal roofs. They take great pride in not only completing jobs quickly but also with amazing quality to ensure that there are no worries about the condition of your roof. The Perfect Exteriors website also offers many features as well to help you price the cost of the work that you will have completed before you make an appointment for an inspection, allowing for you to get a better idea on the cost of the work needed.
No matter which company you choose, you will certainly receive quality work on your commercial roof and amazing prices for the option that you prefer. While many companies based outside of Rockford are also an option, you will find that there is quality to be found in each company right near the location of your commercial buildings. The only thing you will need to do is read into each one and make a decision based on price and customer satisfaction, providing you with more time to concentrate on what matters most to you.
Contact The Roofing Contractor Rockford MN
For your roofing needs, contact us today at (763)-271-8700 or visit our website Perfectexteriorsmn.com to know more about roofing contractor Rockford MN.