The Best Roofing Company Plymouth MN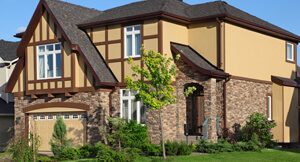 Is your house trying to tell you something? If the exterior paint is cracking, peeling or flaking, listen to your house. Is the roof leaking or has it lost its luster? Are the gutters full of holes?
Your house is begging you for the professional help that only the best roofing company in Plymouth, MN, can provide. That company is Perfect Exteriors of Minnesota, Inc. When you call Perfect Exteriors, the knowledgeable and experienced staff will inspect your property to determine exactly what your house needs.Inspections are free of charge, so there's no obligation.
Once the extent of the work is determined, you will get an estimate to give you an idea of what the work and materials will cost. The estimates are free.
Certified Roofing Company Plymouth MN
Perhaps a new roof is all your house needs. If that's the case, Perfect Exteriors offers a full line of materials for every price range, style, color or type. Perfect Exteriors is a Certified GAF Master Elite Contractor and prefers working with GAF roofing materials.
GAF has been in business since 1886 and is the largest roofing materials supplier in North America. Contractors and builders rank GAF as their most trusted source for quality products.
Among those products, GAF's Timberline HD Shingles are the most popular that Perfect
Exteriors offers. These are typically thicker than traditional shingles, with lines and shadows that can mimic natural roofing materials like wood or slate. For that reason they are called "architectural" shingles.
If you're going to have a beautiful new roof, you can't forget about the walls. Instead of slapping yet another coat of paint on them, consider siding. Perfect Exteriors offers vinyl siding by Charter Oak and Coventry, steel by Edco and Satinwood, and composite wood by James Hardie or LP Smartside.
Vinyl siding is extremely durable, long-lasting and resistant to rot and insects. Metal has those qualities, plus it's hail- and fire-resistant. Composite wood is made of a mixture of fiber and cement and offers the best protection and longevity. Your house will be sealed and protected from the elements and will look like a new place for years to come.
Perfect Exteriors also does windows and shutters, gutters and insulation and repairs storm damage. Financing is available, so when you're ready to get started call Perfect Exteriors at (763) 271-8700.
Roofing Company Plymouth MN Contact Form
You can also fill out an online form by clicking here, and someone will contact you. You may also visit our website Perfectexteriorsmn.com for more information about roofing company Plymouth MN.