The Right Roof Replacement Monticello MN Company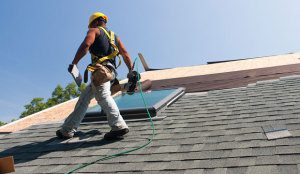 This winter has been a long and brutal one, and while we aren't out of the woods yet, it is safe to say that we are in the later stages of this drug on season. While some may love winter, others cannot stand it, and some are neutral, the point remains: winter is very damaging for some roofs. With winter comes hail, sleet, snow, and other forms of precipitation, though hail is usually only a warm season occurrence. With all these types of precipitation formations, it is important that homeowners recognize the risks that their roofs are facing, especially if the homeowner lives around the Minnesota area. This is because Minnesota, like the rest of the midwestern states, has a very varying season for winter, as some days can be in the high 50s, where other days can be in freezing temperatures. If you live in Monticello, Minnesota, and you are desperately looking for the right roofing company for you, maybe its time you try Perfect Exteriors, the roof replacement Monticello MN.
Perfect Exteriors: The Roof Replacement Monticello MN Company
On the surface, Perfect Exteriors may seem like every other roofing company, and for those who interpret them as such, sorrow is felt. This is because Perfect Exteriors, while special in their own right, is often mislooked or mistaken as "just another roofing company". This is very untrue, however, as Perfect Exteriors has it all. With 35 years of experience, full license and bond qualifications met , and constant monthly savings that are fresh each month, what is not to like about Perfect Exteriors? The company knows what the customers want, and the company delivers on this need ten fold. Whether you are looking for minor roof repairs, or you are looking for full blown replacements, chances are Perfect Exteriors has you covered. The company has a very knowledgeable team, and they even offer free inspections and estimates! In as little as 20 minutes you could get an exact diagnosis on your roof, and a price estimate, with no cost to you at all! This means you will be able to know what exactly is wrong with your roof, without any worry of paying money for a estimate. Perfect Exteriors offers full coverage warranties too, so you don't need to worry about the quality of roof service that you would receive by this company. If you are tired of pushing off roof projects, and you are looking to deal with them head on with professional help, call the help that is Perfect Exteriors today!
Call Us For Roof Replacement Monticello MN
For free inspection, call 763-271-8700 or visit Perfectexteriorsmn.com for more information about roof replacement Monticello MN.