If Your Roof Is Leaking: Call Roof Replacement Contractor Rockford MN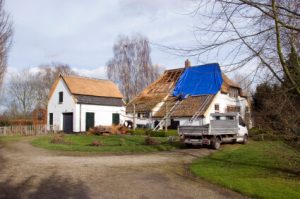 Roofs protect homes from the elements. However, a roofing system can't effectively protect a home if its underlying structural system is compromised by erosion, rotting or another unexpected roofing hazard. Water and moisture are common culprits of unexpected structural damage, which occurs if water or moisture can find a way to worm within the internal structure of a roofing system.
When a roof's exterior structure becomes compromised, water can easily slip inside of its underlying structures and eventually drip inside of a home. Leaks from a roof may seem uncomplicated, but leaving a roof leak untreated can eventually cause bigger problems in the future.
If you're not sure how bad your roof leak may be, contact your local roof replacement contractor Rockford MN company to have them look at your roof. Many qualified roofers are able to give you an exact reason why your roof may be leaking. Let's take a look at why a roof might start leaking.
Excessive Weight
Excessive weight from additional lighting or other roof décor may cause your roof to start leak over time. Heavy items like the aforementioned tend to weight down on a roof, causing its underlying support system to buckle under the weight and break down. The weaker areas, where this décor may sit, might start to wear away or crack, allowing water to seep inside and eventually leak into a home.
Weakened flashing
Weakened flashing is a common cause of roof leaks. Flashing is susceptible to damage from harsh weather and wind, causing it to break down over time and bear leaks. Poorly installed flashing can also cause leaks, as well as flashing made from poor quality materials.
Roof age
Older roofs are subject to all sorts of wear and tear, which can allow water to leak into the underlying structure of its system. Due to this, it's highly recommended to get your roof replaced as soon as possible. After all, an old roof can't effectively protect a home from leaks and other roof related issues.
Roofing Contractor Services That You Can Trust @ PerfectExteriorsMN.com
Stop searching for roofers who can't get the job done—when you can get in touch with qualified and experienced roofer at Perfect Exteriors.
Perfect Exteriors has been bringing quality roofing services to the greater Twin Cities area for over thirty five years. As a GAF Certified insured and bonded roofing contractor company, we provide a full range of roofing services – roofing repair, roof replacement, roof restoration, window installation, siding and gutter installation and much more.
Call Us For A Roof Replacement Contractor Rockford MN
Perfect Exteriors is an eco-friendly company—we pride ourselves by offering a variety of green products for use in your home and by using green products during our work process. If you need a licensed, qualified and excellent team of roofers to help, give us a call. Contact Perfect Exteriors for more information about roof replacement contractor Rockford MN.