Quality Roofing Contractor in Maple Grove, Minnesota
With the highest quality materials and decades of experience, Perfect Exteriors brings the most reliable residential roofing service to Maple Grove communities. New roofs stop small damage from escalating into larger problems while boosting property values and improving energy efficiency. Perfect Exteriors has over two decades of experience serving customers across the Twin Cities, and we take pride as the best local Maple Grove roofing contractor.
Roof Replacement in Maple Grove
Homeowners rely on Perfect Exteriors because of our commitment to providing the best residential roofing products for finished Maple Grove roof installations that outlast our competitors. Our highly valued vendor relationships provide a huge number of options and are available at a broad price range, ensuring homeowners of any budget can protect their most important investment.
As the premier Maple Grove roofing company, we proudly supply and install options from only the market leaders in the roof-materials industry, such as:
With only the longest-lasting and highest-quality residential roofing supplies, we give the finest degree of attention to ensure a perfect installation every time. You should expect no less from the local roofing contractor you rely on – and on top of it all, our premium products and workmanship come with a fantastic warranty no other Maple Grove roofing contractor can match.
Expert Residential Roof Installation in Maple Grove
Our talented team members have over 35 years of experience and maintain the highest-level certifications and training in the entire region. From free roofing inspections all the way through to finished installations, we ensure a spotless and damage-free installation on your property – it's just one of the reasons customers have come to expect only the best from Perfect Exteriors.
From asphalt roofs to cedar shakes and even metal roofs, our roofing products include options with advanced energy-efficiency ratings that come with federal/state tax credits and rebates, offsetting much of the cost. Your property value is further enhanced by an unparalleled warranty program – important factors to keep in mind when getting a free roofing estimate for any Maple Grove roof replacement.
Trusted Local Roofing Company
We've become the Twin Cities region's most reliable and trusted local roofing contractor because we give only the most dedicated customer service and efficient, skillful work. Before our award-winning work begins, we work closely with the homeowner during their free roofing estimate to make sure they know all options available to them – and when work is complete, we leave the job site in better condition than when we began, with no mess and no footprint. Don't settle for competing Maple Grove roofing companies who are more likely to leave dangerous nails and other debris behind.
Excellent Customer Service
At Perfect Exteriors, taking superb care of our customers is the core value that drives us forward. Our staff knows that at every step in the Maple Grove roof replacement process, and are aware that homeowners deserve the best, most attentive care. We invite you to judge for yourself and learn firsthand why we are the preferred Maple Grove roofing company. Whether providing our thorough, free roofing estimates, obligation-free roof inspections, or a complete Maple Grove roof installation, you're in good hands. As your trusted local roofing contractor, we give proof on demand of our license and insurance.
Excellent Workmanship
We've outmatched competing Maple Grove roofing companies for decades, and our abilities are informed by invaluable residential roofing experience. We're proud to bring finished work of true value to our Maple Grove roof installations and help them maintain their roofs as needed long after the installation. Our consistency is key, as our myriad glowing reviews confirm.
Free Roof Estimate and Inspection for Maple Grove Homeowners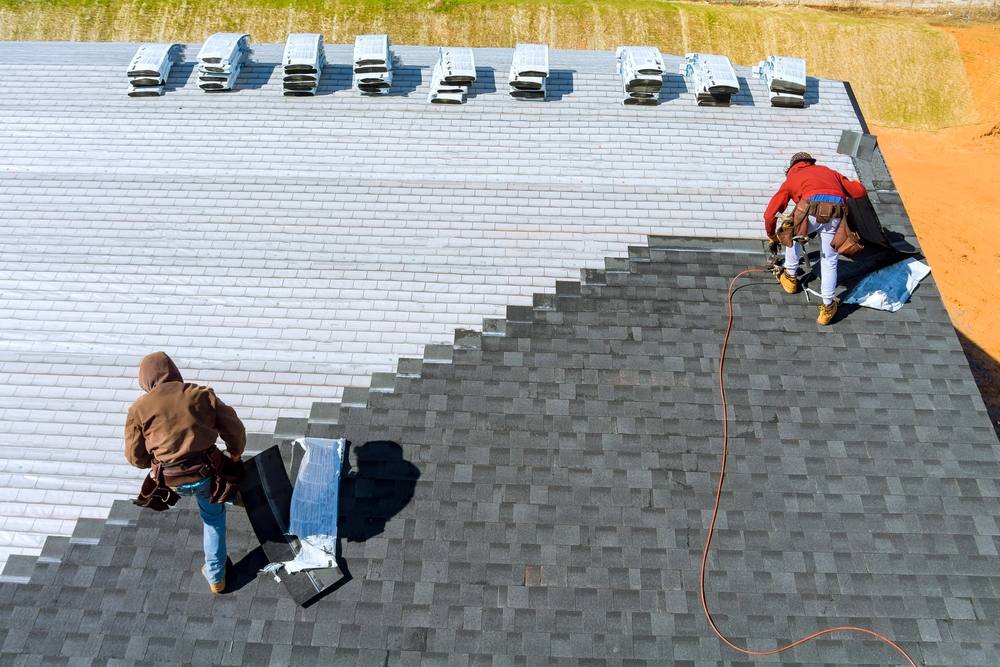 Especially if installed by the competition, a single storm can create small damage that could become a larger issue if unaddressed. Just as you would seal a small chip in your windshield before it progresses into a large crack, you owe it to yourself to have a free roof inspection done. If we find anything of concern, we are happy to provide an obligation-free roofing estimate for any of our reliable asphalt roof, beautiful cedar shake, or incredible metal roof options.
Maple Grove roof installation has never been this easy for homeowners. Reach out to learn more – as Maple Grove roof replacement experts, Perfect Exteriors proud to serve our neighbors as their trusted local roofing contractor.