Perfect Exteriors of Minnesota: Huge Energy Savings on Reliable Insulation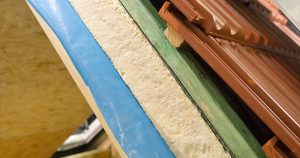 In the face of climate uncertainty in the Minneapolis area, quality insulation endows stability to room temperatures, 'round-the-clock and all year round.
Trust Perfect Exteriors of Minnesota's team of experts to help set up your ideal indoor environment. Good insulation can dramatically slash your heating and cooling costs because it slows the inflow of heat during summer, maintains generated heat in winter, as well as controls dampness and drafts in between seasons. Moreover, a well insulated home is less dependent on fuel and electricity and therefore reduces your carbon footprint.
As a GAF-certified Master Elite Roofing Contractor, we count over three decades of end-to-end project management, guaranteed to protect your home from extreme weather conditions that may arise from season to season.
Quality Work: Professional Installers and Sustainable Insulation Solutions
Our insulation installers take pride in their long years of professional training, hands-on experience, and solid commitment to provide insulation that perfectly suits your needs. Nothing is left to chance. Before we even get down to work, we thoroughly assess your space and your specific requirements, and work hard at getting the job done in the shortest possible time.
Make drafty spaces and sweltering days a thing of the past. Have Perfect Exteriors come over to provide you with suitable and sustainable insulation solutions today.
Know more how we can help with your insulation needs. Call Perfect Exteriors of Minnesota now!
Give us a call at 763-271-8700 or send an SMS to 763-307-3001 to learn more about our quality roofing products and services. We are open for business from Monday to Friday, from 9AM to 5PM. Book an appointment for Saturday jobs.
We serve the Twin Cities Area, including Montecillo, Brooklyn Park, Maple Grove and other surrounding neighborhoods in MN.