Hiring Commercial Roofing Contractor Buffalo MN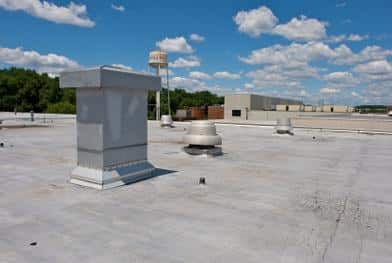 Commercial roofs are distinctly different from residential roofs. Hence, one cannot have the same or a similar approach to both. As a business owner or the manager of a commercial establishment, you need to hire a commercial roofing contractor in Buffalo MN, and not one who is more into residential roofing. Business owners or commercial property owners also own homes so it is perfectly natural for some to assume that what works for the home should work for the commercial building.
Certain choices like asphalt and cedar do not exist when you need a commercial roof. Felt roofing should never be an option for any roof. Your choices boil down to metal, rubber and built up roofing among others. Flat roofs are ideal for built up or modified bitumen. Sloped roofs are more ideal for rubber or metal. But you can have rubber or metal roofs on sloped systems as well. You have to determine what is best for your property and for that you would have to consult with an expert commercial roofing contractor in Buffalo MN.
Talk to your Commercial Roofing Contractor Buffalo MN to choose the Best Roofing Material!
Here's a brief assessment of a few options and why they work well, or not.
TPO or thermoplastic roofing has become increasingly common. It is flexible and durable. It can be personalized so there are numerous designs and aesthetic elements. TPO roofing is very tolerant of temperature extremes, ala fluctuations. Freezing temperatures to scorching sun, the roof can handle it all. Such roofs are also resistant to ultraviolet radiation, ozone and chemicals. Unlike other rubber roofs, TPO doesn't get torn off or punctured that easily. Talk to your commercial roofing contractor in Buffalo MN to weigh the pros and cons of this option. EPDM is another very popular choice. It is not very costly, can get installed rather quickly and repairing or maintaining it is not costly at all. While it is cheaper than TPO roofs, there are fewer merits as well.
Today, commercial property owners are opting for photovoltaic solar panels. Also known as photovoltaic panels, these roofs can contribute to generating energy and that is their biggest selling point. But they are not very cheap. If you have a building that is geared towards doing business for decades and you would be generating enough revenue through the business, then such a choice can save you money on your utility bills and you may even start feeding solar energy back to the grid for financial gains.
Talk to your commercial roofing contractor in Buffalo MN and weigh the green roof options you have. Eco friendly roofs and green buildings may be all the rage right now, but that is for obvious reasons.
Call The Expert Commercial Roofing Contractor Buffalo MN
For free inspection, call (763)-271-8700 or visit Perfect Exteriors for more information about commercial roofing contractor Buffalo MN.