How to Save Money on Roofing Solutions Buffalo MN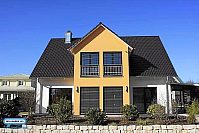 A roof can cost anywhere from five thousand dollars to more than twenty thousand. The exact cost will depend on numerous factors, right from the size of your roof to the type of coatings you opt for. There are certain fixed costs and some variables. If you have a very small roof and opt for a very ordinary quality of asphalt then you can limit your cost at less than five grand. However, that would not be one of the best roofing solutions in Buffalo MN.
You need to get a sturdy, durable and aesthetically pleasing roof, while not spending a fortune. That can only be achieved if you take a few definite steps.
Here is how you can save money on roofing solutions in Buffalo MN.
You must hire a local roofer. A local roofing company will have the logistical advantage. Since it would be operating in the local areas and be a part of the communities, it would have a more reasonable approach. Large companies that have statewide or regional presence would often consider every client as just a stat and not exactly as a homeowner or part of the local community with whom a longstanding relationship has to be developed. Roofing solutions in Buffalo MN are not a onetime service or deal. The roofer would have to be the one responsible for repairs, replacements, cleaning and maintenance.
Always opt for bundled roofing solutions in Buffalo MN. Bundled services will allow you to get everything associated with roofing and more from one company. Roofing and insulation are inseparable, so are gutters and even siding, you may also want the same company to attend to the chimney flashings and if the company can also work on windows, then that would certainly save you a lot of money. You can hire a roofer, then an insulation company and get someone else to attend to the soffits. Or, you can hire the same company and get a package deal. It is no secret that package deals are much more reasonably priced than standalone services.
Always hire a roofing company. Don't hire independent roofers and certainly don't hire subcontractors. They would lack the infrastructural and logistical support to get a job done properly or at reasonable costs. When a roofer has to arrange for everything and doesn't really have the infrastructural foundation, it would end up costing you much more than what you should be paying.
Call Us For A Roofing Solutions Buffalo MN
For free inspection, call (763)-271-8700 or visit Perfect Exteriors for more information about roofing Solutions Buffalo MN.