Hiring An Roofing Contractor in Monticello MN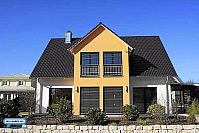 Before you hire any roofing contractor Monticello MN you want to ensure you've chosen the right company for the job. This can be a daunting task for a homeowner that doesn't know anything about roofs, so consider three questions to ask a prospective contractor.
Roofing Contractor in Monticello MN: Our Answers To Your Questions
Our answers can help you to decide on the right choice for your home.
1. How can you save me money on this job?
A good contractor will want to work with homeowners to save them as much money as possible while still quoting them a fair price. They may suggest that you bundle work such as having the attic insulated at the same time as the roof repair, or might be able to suggest less attractive shingles that will still protect the home but at a lower cost.
2. How much is your insurance coverage?
A roofing contractor Monticello MN will need insurance to cover any costs for damages they might do in case of an accident. This insurance should be at least $100,000 for residential homes, and $500,000 for commercial work. Never work with any contractor or company that has barebones insurance coverage as you may be liable for repair costs that are above and beyond their coverage.
There is also nothing wrong with asking to see their insurance certificate so you can confirm their limits and coverage. This will ensure that you are properly protected in case of damage or accident.
3. How many crew members do you have?
If your home just needs some simple repair work such as replacing a few shingles, you might not expect a large crew on your roof. However, if you need a full roof replacement or larger sections of the roof repaired, it's good to ensure that the company you hire has enough workers to get the job done quickly. Having just one or two extra hands on your roof for bigger jobs is a surefire way for the job to drag on for weeks if not longer.
In some cases a roofing contractor Monticello MN may not honestly think that they'll need many assistants on your roof so you might not need to be concerned if they say they're only bringing a few extra crew members. However, if they hesitate or say that they only have themselves or one extra person with them, this can be a red flag that your job is going to take far longer than you expect!
Call The Professional Roofing Contractor in Monticello MN
For free inspection, call 763-271-8700 or visit Perfectexteriorsmn.com for more information about roofing contractor in Monticello MN.