Choosing a Roofer St. Michael MN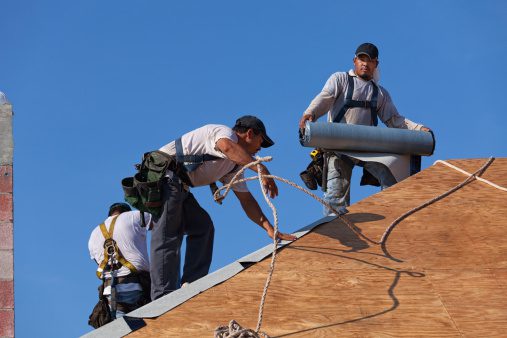 Are you dealing with roofing issues? You might have asphalt shingles that are starting to show beginning signs of wear and tear or you may need to have your asphalt shingles replaced with metal. No matter what type of roofing problem you may be dealing with, it is possible to have it corrected by choosing a roofer in St. Michael, MN that is skilled and qualified. You need a roofer with experience that you can depend on. Instead of choosing a roofing contractor that offers inferior quality services, you should choose a roofer that is known to living up to the highest quality standard in the industry. Not only is the quality of roofing materials important, but the quality of roofing services provided is also critical. We offer the best of both worlds and only use the highest quality materials and the best roofing techniques that are designed to deliver results.
Roofer St. Michael MN and Storm Issues
A big culprit of many of the roofing problems that you may be dealing with are storms. Storms can be very severe in St. Michael, MN and can the major reason behind the cause of your roof failure. You never quite know when the next big storm is going to hit, so you need to be prepared by always having access to a roofer in St Michael, MN that provides emergency services. Our emergency services are designed to be accessible at any time of the day or night. This means that no matter when storm damage occurs, you will be able to have the full damage assessed and repairs begun right away. This will help to minimize the total amount of damage that occurs to your roof and to your property. You might even be able to avoid requiring new roof replacement services completely and will only need to have your roof repaired. You can trust us to inspect your roof and offer estimates and advice that are accurate.
Do Not Delay Any Longer
It is important that you do not put off obtaining high quality roofing services. We are a roofer in St. Michael that will arrive on the scene to evaluate the integrity of your roof right away. By choosing us, you get access to high quality services that are the best solution to all of your needs. It is best that you contact us at the first sign of roofing issues.
Call Us For A Reliable Roofer St. Michael MN
Contact us today to request a free estimate or to ask us any questions you may have. You may call us at (763)-271-8700, or visit Perfect Exteriors for more information about roofer St. Michael MN.