The Right Roofer Monticello MN To Deal With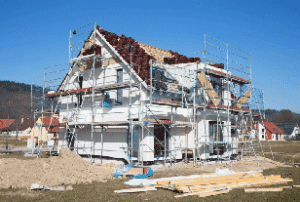 The roof on your property is essential. It is designed to keep you property safe from the outdoor elements and to ensure the integrity. Over time, the roofing system will begin to wear and might be compromised as a result. This means that you not only need to be on the lookout for signs of wear and tear, but you also need to have your roof routine inspected. Storms are common and they can be very severe, which can put a lot of strain on your roof. This means that you always need to inspect you roof especially after a big storm has occurred. Storm damage to your roof is often unavoidable and might result in the need of emergency roof repair services. We are a roofer in Monticello, MN that you can rely on when disaster strikes. Issues with your roof can be a big burden, but we are there to minimize the amount of stress that you have to deal with.
Commercial or Residential
We are a roofer in Monticello, MN that specializes in providing roof repair and new installation services to customers of all types. This means that if you are the owner of a commercial or residential property, we offer roofing services that are designed to meet all of your needs. There is no type of roofing project that we have not seen before. All of our skilled and trained roofers are familiar with the latest techniques and are familiar with all types of roofing systems. This means that no matter what type of roofing system you currently have installed, we have the ability to repair or replace it with ease. Our services are designed to range and cover just about anything that you may require. You can have confidence when choosing us that we can perform roofing services that cover all aspects of your roofing project from start until finish.
Compare Prices and Services of Roofer Monticello MN
When it comes to roof repair or replacement services, we understand that you do not always want to feel rushed when you are choosing a roofer in Monticello, MN. We offer free estimates that are designed to help you compare prices and services with ease. We feel that you should not have to sacrifice quality to get access to affordability. You can faith that our estimates are completely accurate. The estimate that you are given is reliable and you will be assessed additional fees or charges.
Call The Professional Roofer Monticello MN
For free inspection, call (763)-271-8700 or visit Perfect Exteriors for more information about roofer Monticello MN.