Reputable Roof Replacement Contractor Monticello MN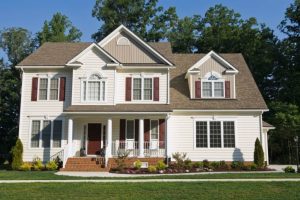 Gutters, while hidden away most of the time, are actually essential parts of your home's roofing system. They're designed to collect and efficiently divert water or moisture away from your home during rainy weather. Gutter systems also help divert melting snow or ice away from your roof, preventing moisture related issues from happening.
When installed correctly, gutters are pretty formidable—and not just for the roofing system itself. They also play a role in preventing the soil surrounding your home's foundation from eroding over time; it also prevents leaks that may occur in your crawl space or basement.
If you feel you're in the market for a new gutter system, why not get it replaced? Of course, you're probably wondering how much a gutter installation might cost. Let's take a moment and learn.
The cost of gutter installation
Gutter installation can be affected by several factors—the material used to create the gutters, the type of roofing at the property, the height of the property and the amount of linear feet used.
Residential gutter installation usually doesn't cost as much as commercial gutter installation. For most homes, homeowners should expect to pay anywhere from $300 to $500 for their gutter installation by a reputable roof replacement contractor Monticello MN company. The price, however, will differ depending on your circumstances.
The cost of gutter installation also varies based on whether you're having your gutters reinstalled in your home or installed in your new home. Gutter installations for newly constructed homes tend to run lower in cost when compared to installations for existing homes. Expect to pay a few hundred more to get your existing gutters replaced, since you have to factor in labor costs, repair costs and other factors that may impact the project cost.
Gutter Installation Services That You Can Trust @ PerfectExteriorsMN.com
Stop searching for roofers who can't get the job done—when you can get in touch with qualified and experienced roofer at Perfect Exteriors.
Perfect Exteriors has been bringing quality roofing services to the greater Twin Cities area for over thirty five years. As a GAF Certified insured and bonded roofing contractor company, we provide a full range of roofing and gutter services – roofing repair, roof replacement, roof restoration, window installation, siding and gutter installation and much more.
Call Us For A Roof Replacement Contractor Monticello MN
Perfect Exteriors is an eco-friendly company—we pride ourselves by offering a variety of green products for use in your home and by using green products during our work process. If you need a licensed, qualified and excellent team of roofers to help, give us a call. Contact Perfect Exteriors for more information about roof replacement contractor Monticello MN.