Qualified Roof Replacement Contractor Maple Grove MN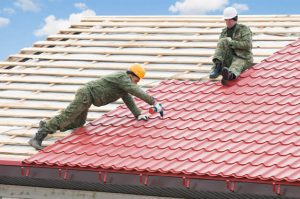 Roofing protects the interior and exterior structures of a home, providing the residents there with a sense of security. Not only do roofs protect, but they also help increase the value of a home in an exceptional way.
Although roofs do protect, you can't just leave your roofing alone. Roofs can't clean, repair or maintain themselves. So, it's important to get in touch with a qualified roof replacement contractor Maple Grove MN to help you perform the job.
When Should My Roof Be Replaced?
Roofs typically need an inspection twice a year—once during the spring and the second during the fall. A typical inspection depicts a qualified roofer checking out every aspect of your roof, checking for any visible or potentially underlying issues. If your roofer finds something wrong with your roof that needs more than a simple repair, you might need a roof replacement.
Most roofs need replacement after at least 20 to 50 years, depending on the material used to build the roof. Your roof should also be replaced if the roof has eroded and/or become damaged in large patches across the roof or in entire areas. As mentioned, if your roof needs more than a simple repair, start looking into getting a roof replacement.
Why Replace Your Roof?
There are many reasons why you should replace your roof when it's time. Of course, the biggest reason why you should replace your roof is its protective nature.
If the protective nature of your roof is compromised, it won't be able to perform its job of protecting your home's internal and external structures. A sturdy roof in good to great condition always keeps out rain and moisture from the internal parts of a home, while also diverting that moisture away from the exterior parts of your home.
Your roof is important for a reason. If you suspect something's wrong with your roof, feel free to call your local roofers for a complementary inspection, so you can finally find out if you may need a roof replacement.
Roofing Contractor Services That You Can Trust @ PerfectExteriorsMN.com
Stop searching for roofers who can't get the job done—when you can get in touch with qualified and experienced roofer at Perfect Exteriors.
Perfect Exteriors has been bringing quality roofing services to the greater Twin Cities area for over thirty five years. As a GAF Certified insured and bonded roofing contractor company, we provide a full range of roofing services – roofing repair, roof replacement, roof restoration, window installation, siding and gutter installation and much more.
Call The Professional Roof Replacement Contractor Maple Grove MN
Perfect Exteriors is an eco-friendly company—we pride ourselves by offering a variety of green products for use in your home and by using green products during our work process. If you need a licensed, qualified and excellent team of roofers to help, give us a call. Contact Perfect Exteriors for more information about roof replacement contractor Maple Grove MN.