Experienced Roof Replacement Contractor Buffalo MN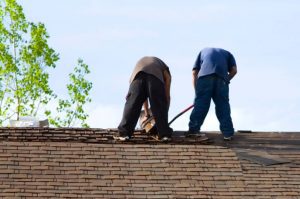 Buffalo, MN although a small town located 40 miles NW of the Twin Cities, now has high quality roof replacement contractor servicing the area with Perfect Exteriors of Minnesota, a 35 year veteran of roof repairs in Minnesota.
Your home is one of the biggest investments of your life and holds all things precious to you. That is why we treat every roof repair job as if it were our own home.   No repair is too small or too big when it comes to your roof. If not properly fixed it can lead to greater expense down the road and severe damage to your home. Perfect Exteriors of Minnesota is locally owned and operated, therefore we know the challenges Minnesota weather places on our homes!
We use multiple products and can repair any roof. Our leading product is the GAF Timberline HD asphalt shingles. These shingles are the best seller in the country and designed to take all the weather conditions Minnesota can throw at it from heavy winds to heavy snow.
The Timberline HD shingle carries the Class A fire rating from Underwriters Laboratories which is the highest rating possible and is designed with Advanced Protection® technology to minimize the use of natural resources yet providing superior protection for your roof.   This system also used Dura Grip™ adhesive technology which seals each shingle securely even in winds up to 130 mph.  These shingles come with a lifetime guarantee backed with our GAF Certified Master Elite Contractor status you can rest assured you are getting the highest quality product and the best installation in the area.
Prairie weather is hard on our homes.   High winds, heavy rains and sub-zero temperatures cause a roof to contract and expand working double time to protect a home.   If not properly installed, shingles can come loose, moisture can slide underneath, freeze and cause buckling which eventually will lead to leaks and damage.   We offer free inspections to check the health of your roof and give free estimates on needed repairs.   Perfect Exteriors of Minnesota will work directly with your insurance company so you can avoid that hassle.   We have years of experience with insurance companies and work hard to take that stress off you.
Roof Replacement Contractor Buffalo MN and Warranty
Perfect Exteriors of Minnesota offers the best warranties in the entire region. Whether you have a new home or an old classic, we are the team to make any repair needed, with daily clean up and efficient quick service.
Call The Professional Roof Replacement Contractor Buffalo MN
Call today to get your free inspection on your home in Buffalo! You May also visit Perfect Exteriors for more information about roof replacement contractor Buffalo MN.