A Simple Checklist To Help You Hire A Good Roofer For Roof Repair Shakopee MN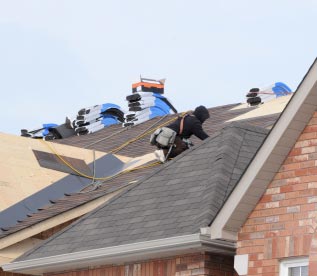 How do you go about hiring a roofer for roof repair in Shakopee MN? Do you call up various roofers, get quotes and then assess the quotes? Do you speak with your friends and neighbors to get some reference or do you begin an online quest? All these approaches are acceptable and will help you to an extent but most of these are long drawn and you may not be very objective with your assessment.
You need an objective approach to deal with a roofer before hiring one for roof repair in Shakopee MN. A simple checklist like the following will be of immense help.
Call up a roofer and get to know their hourly charges. Call another and do the same. Call another and get their fees. You will have three quotes. These quotes are not complete estimates as they don't account for the repairing costs or materials. They are just the labor costs you would pay. You have to know this because you will see why. If a roofer charges a flat fee, then make a note of that. It could be in your favor or against. Only the scenario will determine that.
Discard the roofers that have offered you exorbitant hourly charges. Consider those that are reasonable. Don't ask for a roof repairing estimate yet. Knowing the labor charges will allow you to know how much the roofer is charging you for repairs and the materials needed.
Discuss your roof problems to determine if the repairs are within the ambit of the roofer's expertise. Now, get the roofer to visit your property to inspect the problem. This should be free. Unless you need emergency roofing services, roof inspection is free. Get an estimate only after the site inspection and diagnosis of the roofing problem.
Now you must compare the roofing estimates, not before. Also, don't consider any estimates that had been offered before. The relevant roofing estimate is one that is presented after site inspection and consultation. Look for the details of materials, including brand and quantity. Look for warranties where applicable, get that in writing, check the schedule and all terms of service.
When you have all the paperwork and you have consulted with a few roofers, pause for a while and assess the profiles of the roofer and how confident you are about hiring the roofer in context for your roof repair in Shakopee MN. Hire the one that you trust more and has the most impeccable expertise. Do not forget to consider relevant expertise.
Call Us For A Roof Repair Shakopee MN
Contact us today to request a free estimate or to ask us any questions you may have. You may call us at (763)-271-8700, or visit Perfect Exteriors for more information about roof repair Shakopee MN.