Quality Services From Roof Company Shakopee MN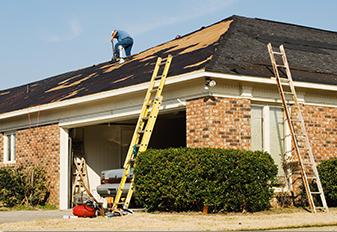 Severe storms can be dangerous to be outdoors in, but they can also be harmful to your roof. Your roofing system is designed to withstand outdoor elements like rain, wind and snow, but over time they can cause wear and tear. The roof on your commercial or residential property is an important component. There is no type of roofing system that is designed to last forever. This means that you need to have a roof company in Shakopee, MN that offers high quality roofing services designed to meet all of your needs.
Services That Range
Different property owners require different roofing services. No roofing project is the same. Since each roof is so unique, it is important to choose a roof company in Shakopee, MN that offers wide ranging services. No matter how big or small your roofing project may be, we have the ability to complete the project from start until finish. If your roof is failing and needs to be replaced or if a recent storm has caused damage that require emergency roofing services, we've got you covered. Our roofing service range, but cover re-roofing, most roof maintenance, roof repair, roof replacement, roof coating and roof emergencies.
Trusted Professional Roof Company Shakopee MN By Your Side
Choosing a roof company in Shakopee, MN is a very important decision. You need a company that is known for being the reliable option when you are in need of roof repair or replacement services. You need an experienced and reliable professional that has a reputation for providing high quality services to the entire region. We make reliability a priority and do not deal with delays. When you choose our roofing services, you will have all repairs and replacements completed in the shortest amount of time possible. This means that the damage to your property will be minimized as a result.
If you are tried of dealing with delays when it comes to your roof, you can choose our reliable services that are delay-free. If strict schedules are something that matter to you and deadlines are of the utmost importance, you can have confidence in the wide ranging services that we provide to the entire region. We know that roof repairs are essential to your property and our goal is to make our services more accessible to all property owners. This is done most effectively by offering affordable rates for all roofing services.
Call Us For A Roof Company Shakopee MN
For free inspection, call (763)-271-8700 or visit Perfect Exteriors for more information about roof company Shakopee MN.