The Perfect Roof Company Elk River MN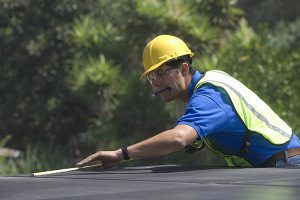 Though it may not seem it, finding a good roofer is very hard in today's world. Either the roofer is too expensive, or their job is too unsatisfactory, either way many homeowners have been forced to settle with "too expensive" or "poor quality". Minnesota is not different in this case, in fact many homeowners in this state will be forced to settle for way less than what they deserve, simply because they are not finding the right roofers. Finding a good roofer is often a task that is completed by few homeowners, and for those who are lucky to do so, very rarely are the best roofers found on the first try. If you want to avoid the searching, and instead want to cut to the chase, then you may find Perfect Exteriors is the perfect roof company Elk River MN for you!
What Makes Roof Company Elk River MN Special?
Perfect Exteriors has a lot of qualities that makes it especially special, in which many customers have been drawn to this company in the past. For one, the company has 35 years in experience in dealing with roof placements and sales, 35 years of expertise and wisdom has done the company very well. The company offers many services and budget options to fund such projects, though the company is far from unfair with its prices. Monthly savings are a standard with the company, and Perfect Exteriors even offers free inspections and estimates! Perfect Exteriors has a well managed, well put together team that is made up of several professionals and knowledgeable managers who know what the best options are when dealing with particular roofs. When you choose Perfect Exteriors you are allowing the experts to make an overall assessment, and when you choose to purchase roof repairs or replacements by this company, you are letting the masters access to your home. Not only will you receive a superb roofing job, but you will also receive it with a very acceptable price that matches the work done to it. The company has been accredited by the BBB, and Angie's List, and many customers have left the company with a very positive experience. If you are expecting the best out of Elk River, Minnesota, then it is time you try Perfect Exteriors. The name speaks for itself, as this company provides a perfect service that is not replicable by any other roofers in the state of Minnesota.
Call Us For Roof Company Elk River MN
For free inspection, call 763-271-8700 or visit Perfectexteriorsmn.com for more information about roof company Elk River MN.