Professional Insulation Company Rockford MN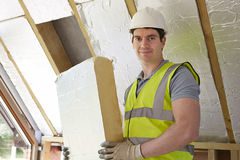 Keeping your home comfortable is probably one of your biggest concerns. Since the temperatures in Minnesota can be so unpredictable it can be a challenge to keep your home cool in the summer and warm in the winter without having outrageous energy costs. The solution to all of your energy bill problems can be as easy as insulation services. We are an insulation company in Rockford, MN that offers services designed to help you save money on energy costs by helping to resist the flow of heat through your home. Many homeowners focus on their HVAC system when they are looking to cut back on energy costs, but you should start with insulation. No matter how energy efficient your HVAC system is it will not make a difference to your energy bills if your home is poorly insulated.
What Can an Insulation Company Rockford MN Provide?
You should not overlook the wide ranging services that an insulation company in Rockford, MN can offer. The insulation of your home is dependent on the integrity of your roof, windows and siding. Many think that your roof is the only aspect of insulation, but this is far from the truth. We offer a wide variety of services designed to meet all of your insulation needs. This includes services like roof installation, roof inspection, window installation and siding installation. Once you decide that the insulation of your home demands some attention, we are the insulation experts that you can count on.
Experience That Matters
You need an insulation company in Rockford, MN with experience that gives you peace of mind. You can't just put the overall insulation of your home in the hands of just any company. We have a glowing reputation for being one of the leading companies in the industry and make every customer the priority. If minimizing the cost of heating and cooling your home is what you are looking to achieve, we've got you covered every step of the way.
Inspections Designed to be Convenient and Affordable
Since you most likely do not know a lot about insulation, you need professionals that you can trust. We offer inspections that are designed to be honest, fair and give it to your straight. We let you know about all major insulation issues regarding your home and give you free quotes on the cost of having these issues corrected.
Call The Expert Insulation Company Rockford MN
For free inspection, call 763-271-8700 or visit Perfectexteriorsmn.com for more information about insulation company Rockford MN.