Trusted Commercial Roofing Company Plymouth MN
When we think of our homes, the words strong,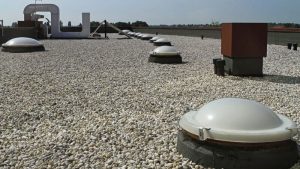 safe, and secure come to mind. That's because homes are specifically built to keep us from harms and dangers. Your home doesn't only give you a place to rest your head – it gives you a protected place to dwell so you don't have to worry about the potential risks of the outside world.
But, even a structure built to be sturdy will give in to the consequences of aging sooner or later. Our homes are constantly exposed to harsh environmental factors, so despite their strength, they are susceptible to damages. Our roofs, in particular, take on the brunt of the damage. Now, what exactly should you do when your roof starts to show those signs of stress?
Don't Hesitate! Replace!
One of the best solutions to ridding your house of a faulty roof is to replace it all together! While a few minor roof repairs might sound like a much less troublesome task (and a lot cheaper, too) it might not be the best decision if you're thinking about saving more in the long run. A roof replacement will guarantee you get your roof's sturdiness back, and could even give your home a well deserved makeover. So, if you're still thinking about the best solution to your roof problems, then a roof replacement is the way to go.
Perfect Exteriors Roof Replacement Service
We at Perfect Exteriors know how hard it can be to find the best service to trust your roof replacement project with, so we make the decision easy with our high-quality service and affordable rates!
With Perfect Exteriors' high level of expertise and professionally trained personnel, you won't have to worry about a long, messy roof repair. We'll get there and get the job done with time to spare. Our speedy and safe process is guaranteed to give you the perfect, problem free roof replacement experience ever! We offer siding, window, and gutter, and insulation maintenance, as well as storm damage repair and much more. You can have your whole exterior repaired in one go! Get a price quotations and inspections for FREE upon your request!
Call Us For A Commercial Roofing Company Plymouth MN
If you're interested in finding out more about our roof replacement services, or the other services we offer, then feel free to browse our website for more information. Call us today for a free quote and find out why we're the best commercial roofing company Plymouth MN has to offer!