The Best Commercial Roofing Company Minneapolis MN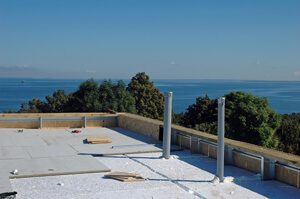 People weren't made to battle with harsh sun, rain, and cold 24/7. That's why we built houses. Your house is your protection against the dangers of the natural world, as well as against security risks. Just as our walls provide us safety, so do our roofs. Unlike walls however, roofs have a tendency to be overlooked and often aren't even thought of – until of course they start to break.
A sturdy roof is an investment – not only does it add an element of design to your house, it can also increase your property's value. Once a roof starts to give in to the stresses it's put up against on a daily basis however, it's near impossible to ignore. The leaks, the cracks, and the lessened protection could very well drive a homeowner mad.
What You Need To Do
While it's difficult to neglect roof damages once they're present, it's even harder to figure out what to do. What exactly is the right solution to a problem like this? Oftentimes, it may seem like a monumental challenge, but the answer lies in two simple words: roof replacement. Let's admit it, your roof has been through enough, and perhaps it's time to consider retiring your old reliable, and replacing it with something better equipped to face the challenges of the harsh environment.
Who Should You Call For Commercial Roofing Company Minneapolis MN
Roof replacements are no simple task, and with all the commercial roofing companies Minneapolis MN has, where do you even begin to make your choice? Yes, it can be difficult but we at Perfect Exteriors make the selection process easy with our high quality service and affordable rates!
With Perfect Exteriors' high level of expertise and professionally trained personnel, you won't have to worry about a long, messy roof repair. We'll get there and get the job done with time to spare. Our speedy and safe process is guaranteed to give you the perfect, problem free roof replacement experience ever! We also offer free price quotations and free inspections so you know exactly what to expect when you get your roof replaced.
Call Us For A Commercial Roofing Company Minneapolis MN
If you're interested in finding out more about our roof replacement services, or the other services we offer, then feel free to browse our website for more information. Call us today for a free quote and find out why we're the best commercial roofing company Minneapolis MN has to offer!