Professional Commercial Roofing Company Big Lake MN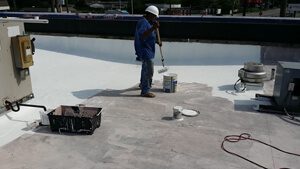 Arguably, there are more materials for residential roofs than for commercial roofs. If you consider the sheer number of choices or different materials then homeowners have more options to choose from. Commercial property owners get fewer options. But then you do have to consider the many variants within the ambit of the same material. One way of looking at the choices of materials is to club a certain material with all its variants and consider it as one. Another way of looking at it is considering every variant of a material as one option. For instance, metal roofing is apparently one solution but when you consider the fact that there is aluminum, steel, copper, corrugated steel, stainless steel, stone coated metal, anticorrosion metal and different blends of metals, then you would have plenty of choices.
Get A Pragmatic Assessment Of Materials From Your Commercial Roofing Company Big Lake MN
It is this existence of multiple variants that makes choosing a material quite a daunting challenge. And that is why you need a pragmatic assessment of materials from your commercial roofing company in Big Lake MN.
You may be inclined to have a metal roof but you need to know the pros and cons of metal vis-à-vis other materials and then you need to know the advantages and disadvantages of every type of metal roof. Metal roofs are not as expensive as slate and they are a nice blend of quality and price but consider copper roof and that perception will change. Copper roofs are staggeringly expensive but that doesn't mean all metal roofs cost a small fortune. The same applies to rubber roofs. Whoever said rubber roofs are as cheap as cedar surely did not consider the high quality membranes with weather guards or coatings that are essential for a commercial property.
There are so many materials and their variants that it is almost impossible for a commercial property owner to know everything about them unless one runs a roofing business. Hence, consulting with your commercial roofing company in Big Lake MN and understanding all your choices is very important.
Pragmatism is the keyword here because it would differentiate between a rational choice and an impulsive choice. Don't get tempted by the costs or aesthetics or any one factor or a few factors. You need to choose a roof after considering all the positive and negative factors. Else, you may still hire the best commercial roofing company in Big Lake MN but you may not get the best solution for your property.
Contact The Commercial Roofing Company Big Lake MN
For free inspection, contact us today at (763)-271-8700 or visit our website Perfectexteriorsmn.com to know more about commercial roofing company Big Lake MN.