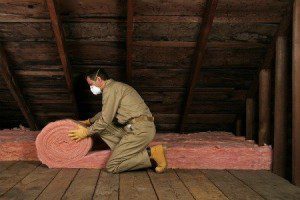 Insulation can go anywhere in a home where there might be an unprotected space, as in, a space where heat may escape a home. Insulation is often found in floors, walls, roofing and, most commonly, the attic.
Insulation in the attic
Attics are a space located above the rest of the home, though below the building's pitched roof. They are mainly characterized as 'awkwardly shaped spaces with often exposed rafters and hard to reach corners.' Despite that description, many people use attics as a storage space or, when renovated, another bedroom or home office.
Interestingly enough, attics also help control temperature in homes. They provide a large mass of slow moving air that eventually flows throughout the rest of the home. They also retain a lot of hot air during hotter seasons (or in hotter climates), which may make using the attic itself difficult, mainly due to humidity. In colder seasons, this air might escape or the attic might retain cooler air that might produce drafts throughout certain parts of the home.
The attic is a common place where heat escapes and cool air seeps inside. The structure of an average attic may leave the enclosed space with gaps, spaces or other places where air may seep out or inside the home.
Nowadays, most attics have some type of insulation to prevent excessive heat from becoming trapped within the attic. Attic insulation actually helps decrease heating costs by as much as 15 percent, which accounts for how much an average uninsulated attic makes a home lose energy on a regular basis.
What's in attic insulation
Most attics have a certain type of insulation. Loose-fill or batt insulation is the type of insulation found in most attics.
Loose-fill insulation is considered less expensive than batt insulation, and actually provides considerably better coverage when properly installed by a professional attic insulation company Big Lake MN.
Batt insulation, on the other hand, is suitable for self installation. It's usually available as batts or rolls, made from mineral or fiberglass fibers.
Do you need a professional for attic insulation?
People who buy batt insulation typically don't need help from a professional attic insulation company St. Michael MN. They only need to pre-measure their attic space, make any necessary repairs and then seal any air leaks found in their attic or roof. After that's complete, they can install their attic insulation.
A professional attic insulation company Albertville MN, on the other hand, can help install loose-fill insulation and even batt insulation, if requested. These companies ensure that you're getting your money's worth out of the insulation process, especially if you're getting attic insulation to save money in the first place.